Be the first to like this update
We set out on March 2nd to raise enough funds to replace Lyn's most-loved fiddle. Since then, we've raised over $2k - enough for her to purchase one of the lovely violins that has been on loan to her for the last few weeks.
I'm ecstatic that Lyn has found a violin that feels right - it's a Stradivarius copy, with a fine neck and a warm tone. The violin is over 100 years old, and came to Lyn through Jim Ketterman, who found it with a family north of Everett.
For those of you still wanting to donate, please feel free - the leftover funds will help Lyn replace her bows and other lost instruments.
Lyn has one more chemo session on April 17th, then her doctors will reevaluate her prognosis. As sick as she's been, she still insists on holding a Monday afternoon jam and teaching one day a week. Incredible woman, our Lyn. Once the neuropathy passes, she'll be back to playing gigs in no time.
Thank you to all who've shared and donated - your generosity has made a real difference for Lyn. Together we have been able to right a wrong, and get Lyn playing again! We are deeply touched by your love and support.
Thank you, thank you, thank you!
Heidi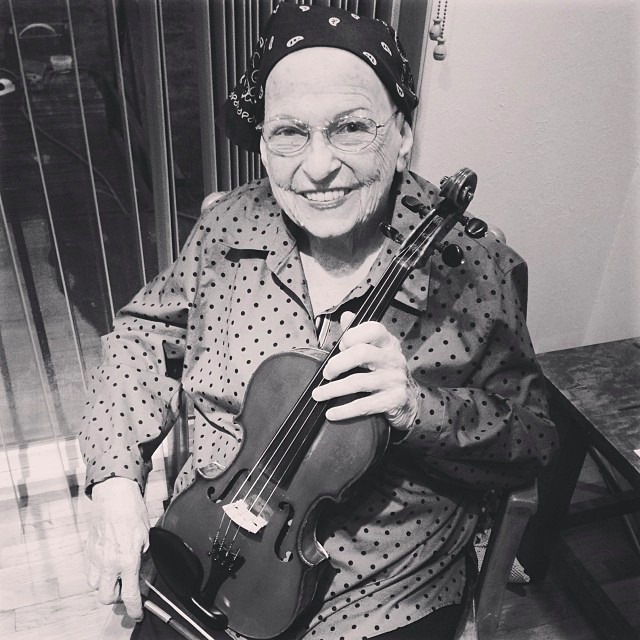 Lyn Neal is a beloved musician and teacher from Tacoma, WA. At the age of 83, Lyn still competes locally, performs in several groups, and teaches violin, guitar, piano, and mandolin one day a week from her home. 
While undergoing cancer treatment,
Lyn's home was robbed and many of her instruments were stolen
, along with some of her medication. The instruments are not covered by insurance, so in order for her to continue making music and teaching the next generation,
we need to raise funds to help replace her most-loved violin - the fiddle passed down from her father, who instilled in Lyn her love of music.
Lyn calculated her losses at $10k, although that estimate doesn't come close to the value of what's been lost - 5 violins, a Taylor guitar, a mandolin, and 3 instrument bows:
Violin: Lyons and Healy Chicago, IL (dark color)
Violin: Robert Glier ~1929 Ohio (light color)
Violin: Antique unlabeled Severely damaged and repaired Strung with octave low strings "Magini copy" (blonde color)
Electric Violin: Veta, with cable (regular body style, dark mahogany)
Electric Violin: Yamaha (modified electric body style, light shiny blue)
Guitar: Taylor (acoustic, no case, blonde color)
Mandolin: Lark In The Morning (no case, sunburst top)
Bow: Signature Chris English
Bow: Signature Phillip Stanley (repaired)
Cello bow: Signature Phillip Stanley
Please help us help Lyn, and bring music back to her life.
For more info, check out the story by KOMO News 
here.