Help stop sexual abuse with awareness, education and resources.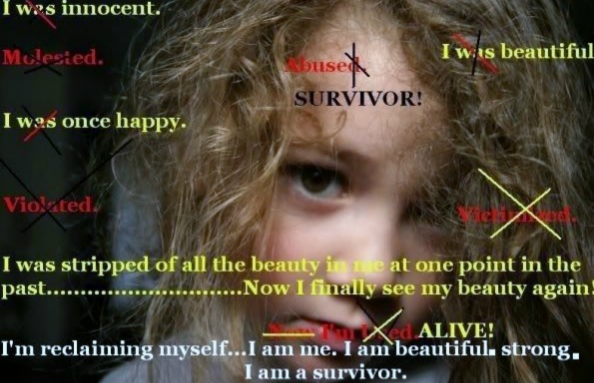 April is National Sexual Abuse Awareness month. I have been distracted with so many of my own life trials yet continue to be committed to this cause. I am asking for everyone of my friends and family to at least donate a little money to this fund. I want to donate this money to the local agency in Harrisburg. Child Resource Center is the agency. They were very supportive when I was all alone. Most of you do not know how difficult it is to fight this battle as a parent of a victim. How helpless one feels! When I needed support the most, no one was there, but CRC was there for me. Federal and state funding is changing once again, and this means less monies to agencies providing support. Has anyone become AWARE? Or have you quietly thought to yourself, this only happens to people who don't take good care of their children. I am here to tell you, I know so many wonderful parents who were extremely vigilant and their children still became victims. I was one of them. It seems the more I speak and share, the less people listen. I am pleading for donations so I can support this wonderful agency in a very critical time! God bless and please do your part. This is for a very real and worthy cause.
Welcome to the Mana'olana Project and for taking a moment to read this request. I am raising money to spread awareness, increase education and provide resources to children who have suffered from sexual abuse. I chose to name my project, "The Mana 'olana Project", which means "hope" in Hawaiian. I want to provide hope to victims of sexual abuse. As a single mother with no family nearby, I was left to manage and deal with the trauma of helping my daughter and family heal from this horrific crime.  While we suffered incredible emotional trauma and financial devastation, I was one of the fortunate ones, for I have an education and a job to support my family. We spent thousands of hours and dollars in therapy trying to find peace and healing.  Nonetheless, I also became sadly aware of the lack of resources supporting children of sexual abuse. There were no support groups for my children and other children who suffered the same atrocities.  The minimal services offered were provided by agencies struggling to survive themselves. The counselors were caring but were inexperienced and not equipped to help us navigate through the trauma. Unfortunately, new counselors were assigned every other month, leaving us with no support and paralyzed.  Additionally, there were no support groups for parents or guardians further exasperating the devastation. Lastly, the friends I had hoped would support me were not capable of providing the support I needed. Sexual abuse is not a topic anyone wants to discuss and the amount of denial perpetuated the alienation we experienced when we most needed love and support. 

 I vowed to make a difference and find a way to help others who experienced the horrors of sexual abuse.  While networking with other guardians of abused children, I sadly became aware of the number of families whose families and friends blamed them for what occurred or who denied the events. The victims are often abandoned by their own families in the greatest time of need.  This campaign is the first step to assist those victims in crisis. Thus, this fundraiser's objective is to provide monies to local organizations who provide resources and assistance to these families in order to increase the services to the victims and their families. These local organizations rely on charity and donations to survive and when a community is lacking in these services the education and resources are minimal. The monies collected for this project will help to fund the services and provide assistance in a tremendously vulnerable time. The statistics state over 70% of children who suffer from sexual molestation know their perpetrator or the perpetrator is a family member. Enlightening one another to these facts is only the beginning. Supportive services are necessary to survive and heal. It is a crime for our communities to turn their backs and pretend it is not out there. One in three girls will be sexually violated by the time they reach their 18th birthday. Please help in my fight to make a difference for the victims. 

The long term consequences of sexual abuse are immeasurable and the importance of providing immediate protection are known but often cannot be achieved.  Please consider a small donation to help support the importance of educating our communities around sexual abuse and to provide services to these victims who have no voice.

Supporters can also help by logging on to my
Facebook page "The Mana' olana Project"   http://www.facebook.com/pages/Manaolana-Project/196971460361760#!/pages/Manaolana-Project/196971460361760  to learn more and access other pages where education and awareness on sexual abuse is provided.  The more we educate the better we understand how we can help stop these crimes against innocent children. They have no voice and have no choice, please donate now to help make this world a safer place for all children.
Also, visit my blog site and twitter site:

http://pennstatechildsexualabuse.wordpress.com/

https://twitter.com/#!/JaneenStout
What is GoFundMe?

Fundraising made easy >>
CONTACT
LINK
POSTER
REPORT
Anne Canada
20 months ago
What an amazing family you have. I am in awe.
Dixie Bardo
39 months ago
sent with many hugs!!!