Meghan's Archery Indoor Worlds Fund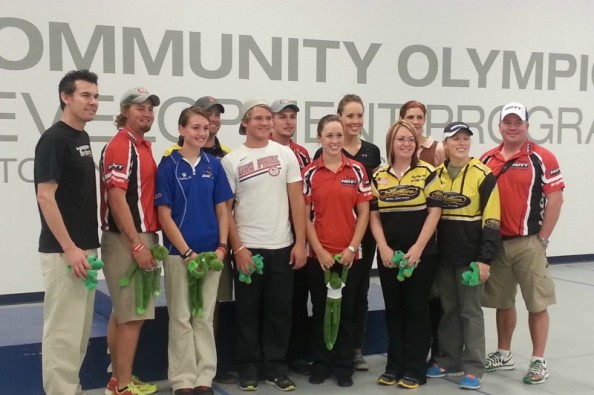 A HUGE thank you to all those who have given so far!! It's hard to believe how close I am to my goal and it's all because of some really special people. I am surrounded by some of the best people anywhere in my church family, the Easton Newberry archery family (and all the great people who come to events there) and my extended family all over the country. Thank you to all those who have shared on Facebook and Twitter and spread the word any way you could! Please help me get the word out these last couple of days to put me over the top!
I am fourteen and have earned a spot to compete in the adult women's division representing the U.S.A. at the World Archery Indoor Championships In Nimes, France this February. The trip is self-funded and I would be incredibly grateful for any support you can give. I have until January 15 to raise the funds. Thank you so much for visiting my page.

I started shooting in the fall of 2011 in my school's OAS program. After shooting a tournament at Easton Newberry Sports Complex, I signed up for classes. I've been training there ever since. My long-term goal is to make the Olympic team.

2013 Rcherz cross-continental event 3rd place
Easton JOAD Nationals
-Gold Grand Champion
-Gold Olympic Round
-Silver Ranking Round
2013 Easton Foundations Gator Cup 8th place (shot up a division)
2013 JOAD Regional Indoor 3rd place (shot up a division)
2011 OAS Mail-in 2nd Place
2012-13 Sunshine State Games 1st Place
2013 State 900 Round 1st Place
2013 State 600 Round 1st Place
2012-13 State FITA 1st place
2013 State NFAA Indoor 1st place
2013 State NAA Indoor 1st place
2012 Shooter of the Year 2nd place
2013 Shooter of the Year Champion
Over 20 local gold medals
State Indoor and Outdoor Records-16
What is GoFundMe?

Fundraising made easy >>
CONTACT
LINK
POSTER
REPORT
McDavid Family
14 months ago
Good Luck, Meghan!
Bill Malone
14 months ago
This is a wonderful accomplishment that you will treasure your entire life. Have fun!
EDDIE PETERSEN
14 months ago
GOOD LUCK IN FRANCE!!!
Mary Jo McShane
14 months ago
Meghan, this is an exciting time for you and we hope there will be more olympics in your future!
Joshua Phillips
14 months ago
Pace & Erin Emerson
14 months ago
We are proud of you Meghan!
Corey & Monika Couture
14 months ago
Reagan Waldron
14 months ago
Hope you reach your goal i love you!!
UF Archery Club
14 months ago
Congratulations, and have a great time in France!
Keep chasing your dreams Meghan. It's the only way to catch them.