Surgery expenses for Jen Tongay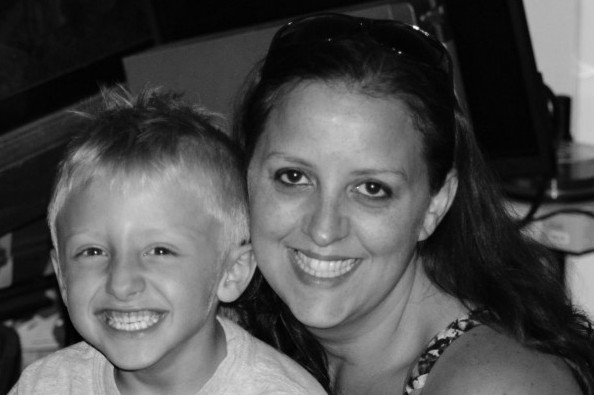 I am going to try to have a small fundraiser for Jen during our city-wide sales. Thinking baked goods and some items for sale. All proceeds will go towards Jen's mounting medical bills. She's facing her yearly deductibles again and also has co pays. I don't want to keep pushing her gofundme page because we reached that goal and are so blessed by your generosity. But, knowing that we have years ahead of us in Jen's fight with this tumor, I am going to do what I can to help.
So, if anyone has anything they wish to donate to our yard sale (going to try to stay away from clothing items) please let me know. I'd like to get things that are in good working order or in good condition. We can arrange pick up of items.
And, of course, every dime goes to Jen. Thanks in advance
Jen is a loving, single mother that works full-time and has managed to buy her own home and make a wonderful life for her son and herself. She inspires me daily with her positive outlook on life...even when life is kicking her in the rear. She always tries to find the positive in every situation and learns from everything that God sends her way...even the bad. She has faced thyroid cancer, a hysterectomy, and shoulder surgery. She now has another battle to face and I know she will win this one, as well.


Jen is having surgery for a spinal tumor. We won't know whether the tumor is benign or not until it is out and biopsied. Jennifer didn't want any help while she was laid up after surgery because she said she really won't need it...that is until she found out her co-pay will be over $1800.00 (this is just for the surgery and hospital stay. If there are complications then the co-pay will go up). I, as her mother, can't sit by and watch her worry about such a huge bill without trying my best to get her some help.

That's where you come in, my friends. If you can help that will be such a huge blessing to us. If you can't then your prayers are also a huge blessing to us.


Please, do not give what you do not have!


Thank you so much
What is GoFundMe?

Fundraising made easy >>
CONTACT
LINK
POSTER
REPORT
Merry Haack
10 months ago
kandy freeman
11 months ago
Please please please do some research on medical marijuana. I think you would benefit from it greatly, to both ease pain and suffering and possibly shrink your tumor. There are all kinds of studies on the healing properties of cannabis. It is also my sincere hope that the citizens of your community will come together to help take care of one of their own. What good is a community of Christians if you don't serve one other in love. Our prayers and thoughts are with you!!
Jacqui Carpenter
11 months ago
Merry Haack
13 months ago
Love you, Jen....
Hershey Keo
14 months ago
:)
Merry Haack
14 months ago
I am soooo sorry that this reversal has yet to reach your office but I want to ensure that Jeanette does not have to pay the extra $15.... AMEX said it could take 72 hours but now you know the money is right back where it should be ~ for Jeanette! Thank you so very much for helping me! Angel hugs
Merry Haack
14 months ago
Jen-I know we had a falling out,but I miss talking hanging out with you. I wish you the best. Wish I could of donated more money,hope it helps.