Help Brieyana get a DaVinci Machine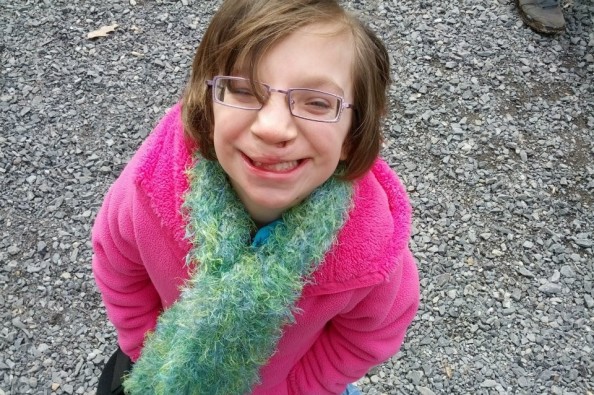 Brieyana's mother posted another video. Thank you for everyone's continued support. We are at 60.75% of our goal. Let's get to 100% !
My friends daughter Brieyana, who lives in Endicott, NY, has an extremely rare medical condition called Peter's Anomoly Plus and is legally blind in her right eye and has limited vision in her left eye. She has huge struggles due to this! She wants nothing more than to interact just like all the other kids do. Her mother attended a meeting at Maine Memorial to see a demonstration of a new piece of equipment that will help give Brieyana the ability to read, see things from a distance and so much more. Her mother was skeptical because she's had meetings before but nothing ever came out of them. Everything changed though when Brieyana had the opportunity to try it out and was able to read from a distance. Brieyana was overcome with joy and enthusiasm from the experience. This machine is called The DaVinci. It has an auto focus 3 in 1 camera, 24" high resolution HD LCD, text to speech, magnification up to 77x, a true mirror image can be utilized as a display for a computer or Ipad and so much more! Children have been reported to go up 2 grade levels in 3 months. The sad news is Brieyana's school district is not in full support due to the $3,000 price tag per machine. Please donate to help give Brieyana the ability to see what all of us are able to see and to also help out an amazing Mother who has been faced with so much adversity but never gives up!

Thank you for your consideration!
What is GoFundMe?

Fundraising made easy >>
CONTACT
LINK
POSTER
REPORT
Sara Williams
15 months ago
This is the money we've received from the auction so far.
Patty Smith
17 months ago
Delores Holder
17 months ago
God Bless
Glory Vapes
17 months ago
Beautiful Girls!!! Hoping You get machine #2 From Gloryvapes!~ Brent & Tony!!
You're a beautiful lady, Sissy. Good luck!
Alecia Lashier
17 months ago
Yvonne - you are such a help to my family. I am very happy to help yours. Hoping for machine #2!