We are having trouble getting any kind of bowel movements out of them. Twelve hours now. It really is to the point I think where if it doesn't come up tonight or tomorrow we are going to have to have surgery for both pups. Never needed a puppy to vomit so much.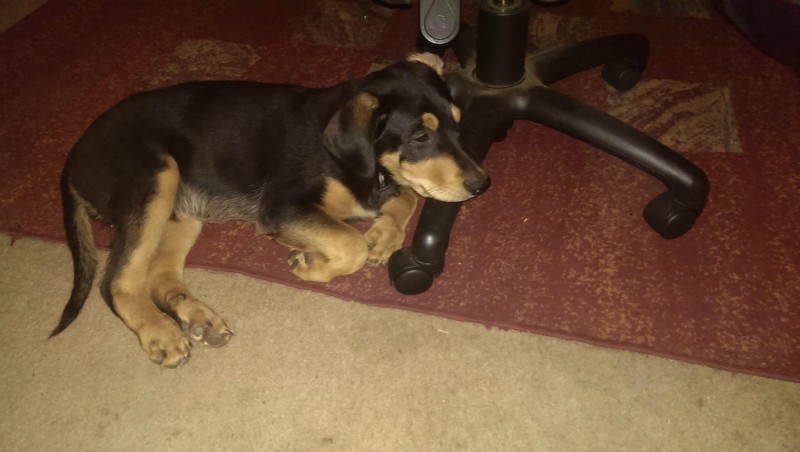 UPDATE:
Found out my autistic little sister forgot to shut the bathroom door and Mac and his littermate Rubicon ate two wash cloths and half a pair of shorts including the string. Suffice it to say this has been rough. We thought we had it cleared up when Mac vomited up the two wash cloths and even got xrays that gave us the all clear so he was put on an all bland diet with forti-flora. But the diarrhea started up again after a day and Rubicon started displaying the same symptoms. If they do not either vomit or pass the string and bulk of shorts in the next day or two they will require surgery but they do need to be seen again as explicitly advised by my vet. I just can't afford anymore. I used my grandfathers care credit, my SSI, borrowed money. I am out of options. But I did revise my goal to just cover xrays and overnight stays. I figured people would probably be more willing to donate if they know exactly what I am doing and what the money is going to be used on. Please help. If you can't, please pass this page along.
I am
asking
for
anyone
out there to
help me
with the care of my puppy Mac. We are not sure what is wrong at this point but have been told it is going to be expensive no matter what it is. He cannot eat or drink. Can't hold anything down. Diarrhea and vomiting constantly. He has tests out and has been to the emergency vet for fluids and they told me that his best option was a surgery to see if they could find anything and that it would be $4,000.00. I am scrambling to see what I can do. I am not going to lose him. I am selling my entire entertainment system. Anything I own of value is going out the door. I hate that I even have to set up a page like this but I need the help. The last several months have kicked my butt. I'm not even 100% sure how these pages work but I promise this, what ever Mac does not need for his care I will ReDonate to the page of a pet in need of just as much care. I just need help. This is me begging. I have had his father since birth and he is a perfect miniature. I couldn't imagine losing him especially since his father is 10 years old now. It would pretty much brake me. Anyone who really knows me knows that my dogs are everything to me. All I ask is just please, help me save him.