Please help Creamy the abandoned cat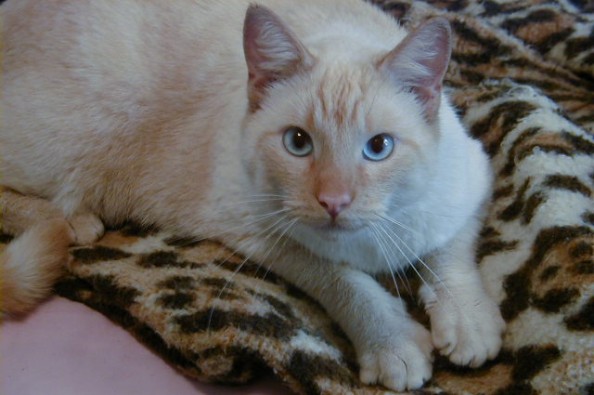 Creamy was rushed to the emergency clinic because both of his hind legs have stopped working. He cannot walk. They tested his vascular system to make sure that he doesn't have any blood clots. Tomorrow he will undergo a chest x-ray, a ultrasound of his heart, and MRI of his spine and a spinal tap. Creamy is stable, alert and has a good appetite. He'll be under general anesthesia for at least two hours. All of this will cost between three and four thousand dollars. But, then I'll know why he isn't walking. It could be treatable. Please help. Every dollar counts. Thank you.
Please help Creamy. Please donate whatever you can. Every dollar helps. Creamy was abandoned on the streets of Los Angeles and I rescued him when he was very sick, dirty, flea-ridden and emaciated. I took truly excellent care of him to get him looking and feeling better. He is very sweet and lovable. I believe that he was abandoned because someone could not afford his medical bills. He has a form of cancer called Fibrosarcoma and I have had to have many surgeries performed on Creamy because if his tumors are removed in time he can survive this cancer. I have depleted my savings account to keep him alive and feeling well. Creamy needs another series of tests and procedures that will cost $4000.00. I'm trying to raise this money as soon as possible as time is important since Creamy is getting weaker by the day. He is in some pain and limping, but he does not need to be put to sleep according to his veterinarian whom I trust. He is very affectionate and still eating well. He just needs to be treated by the veterinarian ASAP! I would be willing to give the name and phone number of the veterinary hospital for you to call to verify this information, as well as post the receipts for previous surgeries, and the current tests and procedures that I'm currently trying to raise money for. I would be willing to post a video of Creamy walking, in his current condition to prove that he is becoming disabled. This disability can possibly be reversed if I act fast and get the treatment that Creamy needs. I'm trying to keep my beautiful and loving cat alive with a good quality of life. I beg of you to help. My heart is breaking. Creamy and I thank you for your compassion and generosity. We'll be forever grateful to you. Thank you for caring. Love from Jamie and her fur baby, Creamy.
What is GoFundMe?

Fundraising made easy >>
CONTACT
LINK
POSTER
REPORT
Richard Taylor
18 months ago
From Dan'l and me. I wish I could do more but...
Anthony Marino
19 months ago
I ask about you and Creamy all of the time. I hope that he is ok. I am thinking of you. Love, Tony
Jeffrey Gordon
19 months ago
David Townley
19 months ago
From Mister Pickles and his dad
Diane Novick
19 months ago
I love you! I love Creamy.
John Fiebich
19 months ago
Poor little guy
Johnson Haas
19 months ago
I once rescued a cat with FIV. Oscar. His vet bills ended costing about $4,000 with multiple surgeries. Oscar got five years of life because I didn't put him down when the test came back. He lost a leg, then an eye, then finally it caught up with him. I'd pay every penny again. His cancer was strange enough the doctors published a paper about him, so he got to help other cats, even. I hope my contribution helps Creamy.