The Great Home Studio Rebuild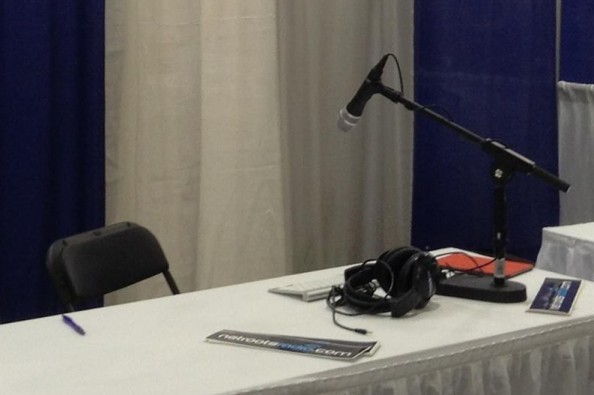 So, the other day, I took my little linux laptop and my loaner mixer out to record a podcast, and it took me two days to get them talking to each other again. I can't continue to work this way, and I can't deal with the laptop dropping the wifi signal on a regular windows-like basis. I really need your support in acquiring the macbook pro.

Thanks.
What you see in the picture, taken at Netroots Nation 2013, is what I am currently using to host my podcasts/radio show and record my voice overs. The rig is made up of an iPad, iRig Mic and that's it. It's decent, but it's limited to what it is capable of doing and what I need to be doing. I cannot do audio-posting or be more interactive with guests on my show if they are not in the same room with me. .


Given the chance, and with your support, I will be able to broadcast from Netroots Nation 2014 with a proper setup, which will will (hopefully) include the livestreaming of my show via iPad.

The rest of the gear is required for me to continue developing my Voice Over career, live radio, audio post-production, and podcasting

NOTE: The change in the needed amount reflects the change in pricing of the MacBook Pro.Kelly
What is GoFundMe?

Fundraising made easy >>
CONTACT
LINK
POSTER
REPORT
2 NADY SCM-800 CONDENSOR MI...
Richard C Rockwell
10 days ago
Angela France
2 months ago
Love ya wish I could afford more.
Erica Harris
3 months ago
13-INCH: 2.4GHZ WITH RETINA...
Erica Harris
4 months ago
13-INCH: 2.4GHZ WITH RETINA...
Erica Harris
6 months ago
I'm hoping this will be a little more productive than the hammer I offered you the other day
I don't have much to give but I can give this little bit each month.
2 NADY SCM-800 CONDENSOR MI...