Determined Hearts for Destyni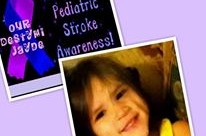 Sorry for the page mishap.. It is now back up and accepting donations once again. Thanks in advance for helping us reach out goals!
Our miracle, Destyni Jayde Hutchinson (4) was 11 months old when she was diagnosed w/ Left-Sided Hemiparetic Cerebral Palsy which was caused by a Stroke In Utero. Destyni fights everyday with a smile & never gives up. Her Doctors recently told us about Pediatric Constraint Induced Therapy @ Children's Hospital in Birmingham, Al.. C.I.T. is a family of treatments that teach the brain to rewire itself following a major injury. It is the only Rehabilitation Technique shown to produce a marked changed in brain Organization & Function. During this time Destyni must stay for 3 weeks. At this time Destyni's strong arm must be completely restrained to train her weak arm. As this will benefit Destyni tremendously it is also very costly and unfortunately her insurances will not cover it. Please Help us reach our goal of $9,000 and be a part of Destyni's Journey. Thanks for your Generosity :-)
What is GoFundMe?

Fundraising made easy >>
CONTACT
LINK
POSTER
REPORT
Bailey & Jett
16 months ago
Good luck to yall on yall journey! All up hill from here
Sandy Falgout
17 months ago
Keeping our baby girl in our prayers!
Mike Bruno's Bayou Country HD
18 months ago
Arlene Domangue Keller
18 months ago
Keeping Destiny in my prayers. Love you all! From your cousin.
Allyson Brunet
18 months ago
Ethel Boquet
18 months ago
Sharon&Daniel Verdin
18 months ago
Mawmaw Sharon &Pawpaw Dan loves you your a blessing to us you've been thru so much God is watching over you
Kristie Brunet
18 months ago
We love you Destyni!
Rhonda Verdun
18 months ago
Love Uncle T-Vi and Aunt Betty