send Danny to Washington DC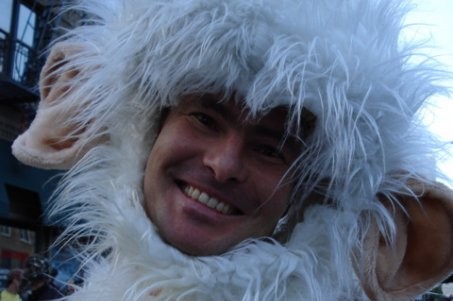 UGH! I had to change my flight schedule as the rally I intended to take part is now being held on Sunday rather than President's day. So much for being on top of the flights early. This cost me $150 so I upped my goal in case folks were still thinking of donating a few bucks.
This is looking like it will be the largest climate rally in history (at least in the US), thanks for helping me take part!
Peace

I am Danny Boyer and I plan to go to Washington DC (from California) to be part of an international day of action being planned by 350.org to push the US government to take bold action in leading the world towards a future of clean renewable energy and away from fossil fuels.  I am hoping people who cannot be in the streets with me, will chip in a little money to help me get there (I am supporting a family and while financially this trip is not in their benefit, taking action on the climate change issue is!). 

Governments will not make tough decisions unless they are pressured to do so.  Around the world and throughout history, citizens have taken to the streets to pressure their governments to take various positive actions. 

According to scientists, as highlighted by the recent World Bank report, Turn Down the Heat, human cause climate destabilization due in large part to the burning of fossil fuels, is happening more rapidly than most predicted.  We are at a point where our governments must take extreme action immediately to avoid possibly catastrophic outcomes. 

The US government needs to lead the world in reducing its use of fossil fuels as well the development of renewable sources of energy.  Instead they have been leaders in obstructing meaningful action being taken on a global scale.

 Presidents Day, 2013, people from around the country and world will gather in Washington DC to say yes to renewable energy, yes to bold action on climate change, no to fossil fools, no to the XL pipeline.  We will be the pressure Obama needs to take this issue on and make the United States leaders in climate solutions not leaders in climate pollution.
What is GoFundMe?

Fundraising made easy >>
CONTACT
LINK
POSTER
REPORT
Lee Cummings
26 months ago
Dear Danny... My brother, I couldn't think of anyone better to get over there to represent our voices. Action MUST be taken and the time is NOW. You mentioned the Aussie situation in your latest email Danny, check out this link for some frightening facts on that - http://www.getup.org.au/campaigns/climate-action-now/climate-infographic/our-new-normal?t=dXNlcmlkPTU2MTE1MCxlbWFpbGlkPTExNTA= Have fun in DC mate...be passionate! I respect you deeply for all you feel, for all you give and for all you do. Power to the Peaceful! Lee
corry wagner
27 months ago
you go, danny! thanks for doing the foot work and helping us have a voice!!
darrick clayton
27 months ago
Give 'em the what for!
Mitch Powers
27 months ago
Danny, Good luck. I hope the trip happens and thanks for representing all of us who are just sitting on our butts.
Toni Ouradnik
27 months ago
Put our names on your shirt - show them how many people you represent!
Thank you for taking the time to help us all