Facial Transplant & Reconstruction!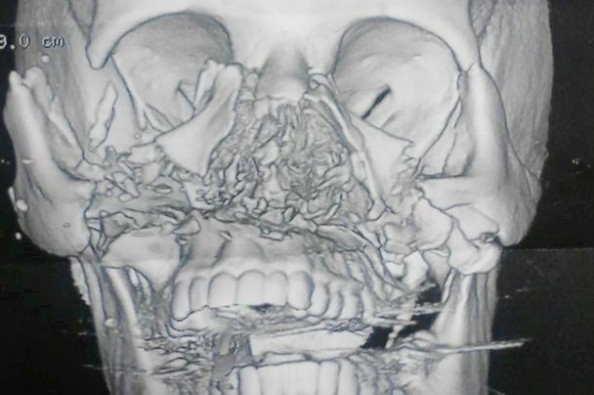 Thank you to everyone for their donations. Sarah has been in pretty good spirits lately but she has lost a significant amount of weight since the accident. Lets hope she puts it back on so shes back to the normal Sarah!
Sarah was in a tragic ATV accident on October 16, 2012. When she was going downhill she lost control and flipped. Unfortunately she wasn't wearing a helmet and the ATV landed on her face causing extensive injuries and required her to be life flighted to Grant Medical in Columbus, OH. All the bones in her face from the eye sockets down have been shattered into many pieces. The doctors aren't sure what all is fixable at this point and feel the only option for reconstruction would be a total facial transplant. They will fix everything possible here at Grant but she will be transferred to Cleveland Clinic in the next week or so for continued surgeries. She also has a small brain bleed that they are watching and strained muscles in her neck. Due to the muscle weakness she will be in a C-Spine collar for a few weeks. They placed a tracheotomy and put her on a ventilator that will be used until she is strong enough to breathe on her own but the tracheotomy will remain in place until the majority of the surgeries are completed. Sarah is a beautiful, vivacious, strong, selfless young woman who unfortunately does not have any medical insurance. Her family feels extremely blessed that they still have her in their lives and would someday love to see her live her life to its full potential with help from your donations.
What is GoFundMe?

Fundraising made easy >>
CONTACT
LINK
POSTER
REPORT
SUPER THANKS!
The Ladies Shopping party raised 135.00. We wish you the best!
RACHEL DAUBENMIRE
20 months ago
Donations were raised with the Help from Jessica Pennington of Logan Ohio.
Steve Vieland
27 months ago
Hoping for a quick recovery and that all be well for you and your family in the times to come.
Denise Rambsel
28 months ago
Angie and Kyle O'Brien
28 months ago
Thinking of Sarah a lot. Stay strong hon. <3