Help Harry Timms and Family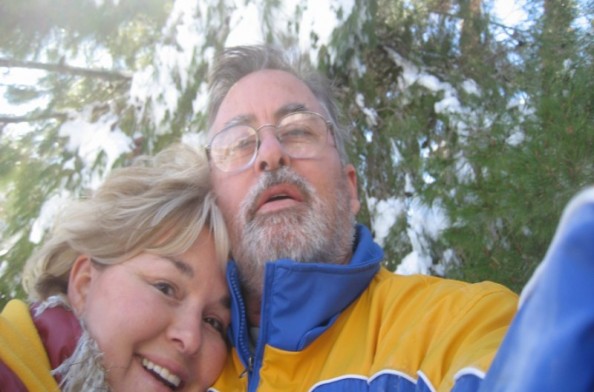 June, April and Scott would like to thank you all for your love and support. The memorial this weekend was amazingly beautiful and heartfelt. We could have sat there and listened to your stories about dad all day and then some. Thank you to First Baptist Church for the lovely ceremony. Thank you to John Henry for singing and playing from your heart. Thank you to Lisa for opening your home up to all of us to let us continue the celebration of dad that day.

I will leave this page open for awhile in case anyone wants to get a hold of me or you can go to mine or dad's Facebook pages. Lots of love to all!!!
Update as of Saturday 10/13/12. Today we lost an amazing man. May his smile and laughter live forever in our hearts!!

Hi to all the family and friends of Harry Timms and June; visiting this site. We are not always good at asking for help but sometimes it is necessary. Dad is officially in Hospice care now at West Hills Hospital. He has been taken off of all assistance and is being eased with pain medications. We do not have a time frame so we are trying to make sure he has constant visitors until he passes. He put up a great fight for the last few months, heck for the last few years. It started with his heart surgery 3 years ago, then problems following a burst appendix and now his bout with strokes and heart attacks. We want him to be at peace now. According to doctors he just can't win the fight.

Now is time to open our financial wounds. I put a large amount for donation because I honestly wasn't sure what to put. Unfortunately, I recently found out, he doesn't have life insurance. He lived in the now and never thought twice about something like this happening to him. At the time they needed the money to help keep them afloat. By the time it was thought about getting it for him again, he had so many health problems that it was too expensive to insure him. He has not worked for over 3 years and after his second hospitalization mom had to quit work to take care of him on a full time basis. They have been living off of social security, disability and all remaining savings. Now we are going to have to figure it all out and help mom.

We don't ask for help if you cannot afford to. However, know that even the tiniest amount helps. All of our love and utmost appreciation!!

June and April




What is GoFundMe?

Fundraising made easy >>
CONTACT
LINK
POSTER
REPORT
Jeri & Steve Feig
29 months ago
Lynne Johnson Simpson
29 months ago
I am so sorry for your loss. Harry was a special man and important to Rebecca and the rest of our family.
Juan Jose Hernandez Carrazco
29 months ago
sorry for your lose, harry was a very good friend and a great salesperson i have good memories of him one is i will call him on NEW YEARS! and wish him the best for him and family always remember him.
Inna Kotlarsky
29 months ago
Dear June, I am so sorry for your loss. Love you.
The Hass Family
29 months ago
To April, Micheal, Ashleigh, June, and all of Harry's family and friends, we are sincerely sorry for your loss. You are in our thoughts.
Deborah Taber
29 months ago
So sorry to hear about your loss. Sending blessings and peace to you.
Sheryl & Lucas Clara (Greenblatt)
29 months ago
We are so sorry for your loss. I wish we could do more...
Ramos Family
29 months ago
Harry, "Mr. Timms" is missed by us all. Our prayers for you all and be at peace knowing that he is no longer suffering and we will all meet again. For now, "Mr. Timms" it's just Farewell, until we meet again!
Samantha Timms
29 months ago
Love you guys!