Life with AMC and Too Tuff Timmy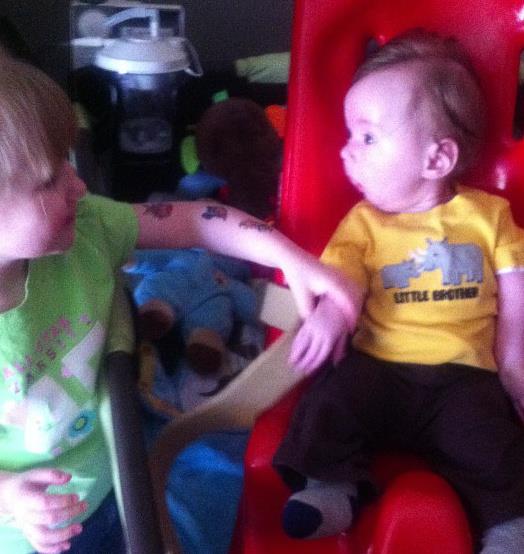 So they took the Gj tube out and in seconds tim was relived and you could see it on his face! He may be going home tomrrow as long as his o2 levels are ok .thank you everyone for your on going prayers! He seems happy and doing much better . This will be a long road of trying how to bypass the stomach for feeds.
We are trying to raise money to be able to help us to pay our sons medical bills . He was in the NICU at Maine Medical Center in Portland for the first five months of his life . He was born with Micrognathism syndrome which is a underdevolped chin so his tounge is to big for the smaller lower jaw falls back in his throat and hampers his breathingHe also has Arthrogryposis Mutiplex Congenita syndrome which is a rare congenital disorder that is characterized by multiple joint contractures and includes muscle weakness and fibrosis. It is a non-progressive disease. Due to his low muscle tone through out his body he is unable to swallow so he is fed by a mickey-button through his abdominal wall into the stomach.
Without being able to swallow makes his acid reflux and any upper body secretions hard for him to handle at times and we have to suction him or he can choke or aspirate into his lungs and cause phenomena. He has physical therapy daily and splints he has to wear on his legs the straight them so he can sit in a power chair or wheel chair when he gets older.
He still has a long road of healing ahead of him as far as tests, therapy, and other issues . He is a strong little man and fights everyday . He will have very limited mobility But this is our new Normal and we love everyday of it God bless you all . <3 Timothy Joesph Miller <3 We hope to go the AMC conference in July 2-5, 2014 in Minneapolis ,Minnesota to help us learn new and the best ways to take care of Tim and his needs as a special needs kiddo
What is GoFundMe?

Fundraising made easy >>
CONTACT
LINK
POSTER
REPORT
Connie Mussari
2 months ago
Continuing prayers for a speedy recovery
Lisa Ferrell
2 months ago
Stay strong
Connie Mussari
4 months ago
I will keep you all in my prayers.
Ann Williamson
13 months ago
Nancy & Rick Bender
13 months ago
Mathews Country Store
18 months ago
Friends & Customers