Terry Farrell Firefighters Fund Fund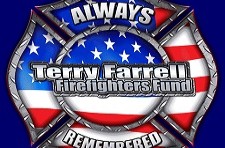 We have been working everyday to make the lives of those affrected better by bringing needed supplies and volunteers to those area. Thanks to so many who have donated we have been able to raise and distribute thousands to the families of firefighters. THANK YOU TO ALL OF YOU WHO HAVE STEPPED UP. WE HAVE A LONG ROAD AHEAD AN STILL NEED YOUR HELP. PLEASE CONTINUE TO SUPPORT THE TERRY FUND AT WWW.TERRYFUND.ORG
 PLEASE HELP!  TO OUR FRIENDS AND BROTHERS IN THE FIRE SERVICE WE NEED YOUR HELP MORE THAN EVER. THE TERRY FUND IS OUT EVERYDAY SINCE SANDY HIT THE LONG ISLAND AND NEW JERSEY SHORES. WE ARE BRINGING IN BADLY NEEDED GEAR AND SUPPLIES TO THE MANY BADLY DAMAGED AND DESTROYED FIRE DEPARTMENTS ACROSS LONG ISLAND. WE NEED FUNDING TO KEEP OUR TRUCKS ROLLING, STORAGE SPACE TO KEEP THE DONATED GEAR, TOOLS AND FIRE APPARATUS. IF YOUR DEPARTMENT CAN SPARE SOME GEAR OR TOOLS PLEASE LET US KNOW. IF A DEPARTMENT HAS SURPLUS FIRE ENGINES, SUVs, VANS OR ANY VEHCILE THAT THEY CAN DONATE OR SELL TO THE FUND WE NEED TO GET THESE DEPARTMENTS UP AND RUNNNING TO PROTECT THE COMMUNITIES AFFECTED. PLEASE HELP. AND THANK YOU TO ALL OF YOU WHO HAVE ALREADY STEPPED UP.
What is GoFundMe?

Fundraising made easy >>
CONTACT
LINK
POSTER
REPORT
CHIEF
KME Fire Apparatus
28 months ago
Thank you for all that you do!
VOLUNTEER
Kathy Wilhelm
28 months ago
ENGINEER
Greg Reeder
28 months ago
I had the pleasure to work with Terry when I was a member of the Dix Hills Fire Dept. He was one of a kind and will always be in my heart. He made such an impact to my life that we named of son after him.
ENGINEER
Michael Milner
28 months ago
Terry you are still in my heart!
CHIEF
Lee Galperin
28 months ago
Thank you for assisting the fire departments impacted by hurricane Sandy. We appreciate all that you do. Your friends at Smith & Warren Badges & Insignia
VOLUNTEER
mary mccann
28 months ago
thank you for doing this page