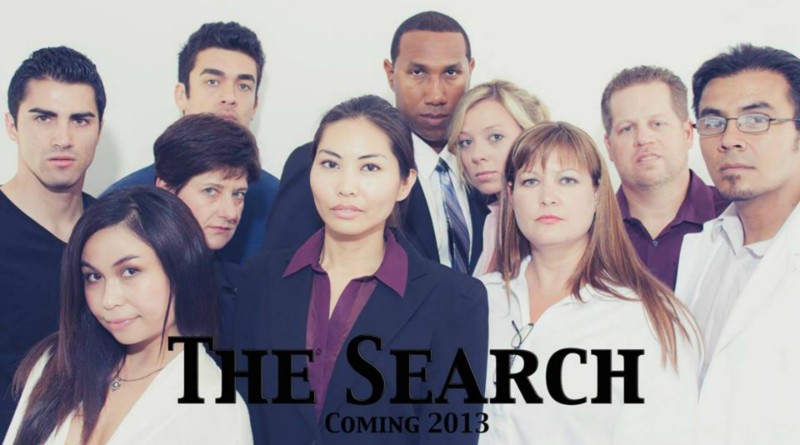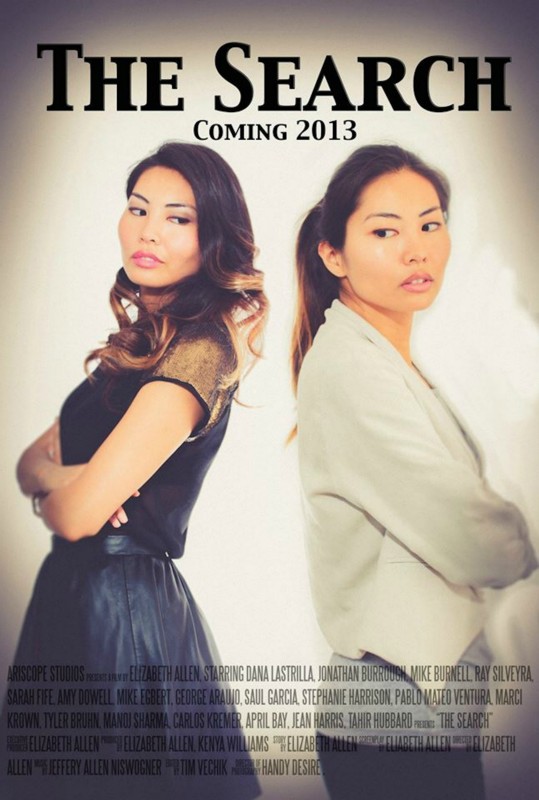 "THE SEARCH"
Web series is a crime drama web series created from the mind of Writer,Producer, Director Elizabeth Allen.
The project is being produced by Elizabeth Allen, Kenya Williams, and Nick Angello.
Synopses:
Nadia Perkins's twin sister Penelope went missing ten years ago. Since then Nadia has been searching for her missing sister with no luck. She is now a Private Investigator that works with FBI agent Tim Adams at the Missing Person's department. Nadia must not only find out what happened to her sister but find the plotters responsible for a string of kidnappings.
ABOUT THE SHOW
:
Our vision for the show is to treat it like a regular weekly episodic TV Show but a mini version. The show will air weekly so starting September 2013, audience can watch the show on a certain day and time. We want to make 5 seasons of the show. Each season will consist of 5 episodes.

THE CAST:
We have an incredible cast of talented individuals. The show stars: Dana Lastrilla, Mike Burnell, Jonathan Borrough, Ray Silveyra, George Araujo, Sarah Fife, Marci Krown, Jean Harris, Mike Egbert, Amy Dowell, Stephanie Harrison, Saul Garcia, Pablo Mateo, Manoj Sharma and Carlos Kremer
.

www.ariscopestudios.com/the-search
to put faces to the names.

What We Need? What's our angle:
To produce a web series that can be entered in festivals, distributed via various online distributors and our goal is to get exposure for the web show. We are planning on doing 5 seasons for the show which will only happen with your support and help.

We will begin filming starting June 1st. We already have our amazing cast and crew but we need your help to be able to pay everyone. From cast,crew, props, food on set, and post production.

WHAT WE ALREADY HAVE.
An experienced, professional production staff.
All our own equipment including Cameras, lights and production equipment.
All post-production, including editing, sound and music score.

We Need Your HELP to make this a reality...here's what we need:

PRODUCTION FUNDING. Your contribution will go DIRECTLY toward production costs, i.e., location costs, props, payroll, food, accommodations, special effects makeup, and post production editing. Everyone who is hired as talent or crew is under contract and gets paid for their services. Not what they deserve to get paid but they took on this indie production because they believe in it.

What you get in return:
Join a creative team committed to bringing an exciting, original web series that is different, fresh and exciting than what you would expect from a normal web series!
Plus it helps that we have some of the coolest perks we could think of (see right).

THE SEARCH is the kind of story that carries wide, mainstream audience appeal. Potential markets include theatrical, television, DVD and streaming distribution. Who doesn't love a good crime drama.

The filmmakers have a successful track record in writing, producing and directing. This may be a low-budget indie, but it's far from an amateur production.

Our plan is to promote the film heavily by submitting it to the TOP TEAR Film Festivals across the USA. The goal is WIN several festival awards and to find the funding to make the MORE SEASONS.


HELP SUPPORT OUR WEB SERIES BY DONATING!
Even the smallest of contributions are appreciated. But if you're cash-strapped, you can still make a difference!
Share this page with everyone you know!
Visit our Facebook page at
www.facebook.com/thesearchbegins
Follow us on Twitter at
www.twitter.com/ariscopestudios
Check out our website at
www.ariscopestudios.com/the-search
Subscribe to the YouTube channel where the show will be shown weekly.
www.youtube.com/ariscopechannel