Be the first to like this update
Happy Tuesday/Wednesday Everyone!
Apologies for the delay in updates as I just arrived back into the States on October 4th and have been trying to catch up with life.
With that said, I would like to take this opportunity to extend an enormous THANK YOU for all of the support and positive thoughts that you have fueled into this personal challenge of mine. As of the timestamp of this update, $10,047 has been raised to help The Medically Fragile Children's Foundation of Northern California build better childhoods for kids who require continuous medical technology and intervention to sustain life. Special thanks to United Airlines who comped my 2nd checked bag containing the ventilator ($100/each way), El Paseo Limousine, Business Intelligence 101, who stepped up to help on a corporate level, and the individuals who came forward and donated even through their organizations were unable to sponsor. Further thanks to our named donors and our supporters who have chosen to remain anonymous.
I am sincerely humbled by the generosity exhibited by you all. I am touched that you all have chosen to take a piece of ownership in this ongoing cause to help these kids... be kids. I have included a personal account of perhaps the most physically and emotional challenges of my life:
************************************************
IMPORTANT NOTE: For people who have donated directly through the GoFundMe website via credit card, this site does not track donor addresses for me to use. Therefore, if you would like this documentation of your donation and a Thank You, please email me your Name, Address, City, State, Zip and I'll ensure you receive these letters for your records. I can be emailed at info@mfcfnc.org.
************************************************
On with the story...
I arrived into the United Kingdom on 11 September. Regarding the actual challenge, commenced on Saturday, 14 September 2013 at 10:00am at the base of Ben Nevis, Scotland.
Ben Nevis, Scotland (4409 ft / 1344 m) - 10:00am
After completing a safety talk with our Mountain Leaders (ML), 4 teams of 8 people (each led by an ML) staggered starting times at the base of Ben Nevis. I was on Team #2, which was made of 4 males and 4 females from England, Wales, and The Netherlands. The weather was mild, with partly cloudy weather. I ensured that my pack was secured with the ventilator and utilized 2 trekking poles to assist with with my balance. Unfortunately, at about 1100 ft, I had to let go of the ventilator secondary to needing to meet strict timing requirements by my group (while training, I completed many local solo hikes, but didn't have another person to help me keep my pace). Ben Nevis was summited at about 1:30pm and we completed our descent about 4:45pm, just in time to hear a bag piper play in the distance and to catch a bowl of porridge to help replenish much-needed nourishment.
Scafell Pike, England (3209 ft / 978 m)- 11:20pm
After a 6 hour drive in the minibus and a mixture of very brief shuteye and trying to eat scant portions of food without getting carsick, we arrived at Scafell Pike, less sunlight. Our team put on our gear and head lamps and hit the ground ascending. It was actually very romantic. Hiking on a starry night into a black pointy silhouette, illuminated only the head lamps of 2-3 other small groups making their descent. At about 400 feet to summiting, a large fog/cloud front rolled in, accompanied by bursts of wind. On top of not being able to discern a proper trail as the top of the mountain is covered in rocks, the weather made visibility poor. It was actually getting cold and we had to add an additional layer (and gloves) due to the wind chill. On top of that, our ML cautioned us to stay closer together as there were sheer cliff hazards along our path. Thanks to our ML, we were able to navigate across the terrain and summit Scafell Pike around 2:15am. During our descent, the weather broke and we were once again greeted with a lovely starry night. We completed descent at about 4:30am, greeted with cups of hot tea. I don't think I've ever craved a cup of tea that badly! We then took a short break and headed to Snowdon with a quick 10 minute pit stop to get food along the way.
Snowdon, Wales (3506 ft / 1085 m)- 8:00am
After a seemingly endless and grueling 3.5 hour drive and not being unable to fall asleep, we arrived at the base of Snowdon. At this point, we checked in with the mountain center and found out that there were 60-70 mph gusts toward the summit, which was indefinitely closed by Mountain Patrol. This was in addition to interminable heavy rain coming from all directions. We decided as a group that we would try to get as far as we could up the mountain. At about 1000 ft, we were absolutely soaked from head to toe. I had a swimming pool in each of my boots; the weather was so bad that not even weatherproof gear could repel the elements. Thanks to a moisture-removing base shirt/trouser layer and wool socks, I was able to stay warm. At 1700 feet, we were hit by continuous wind gusts making it virtually impossible to complete several crossings through rock stairs, etc. even with 2 trekking poles. The wind was so bad that we had to huddle and interlock arms as a group for several minutes to stay upright. Our ML advised us that the weather was most likely not going to break, however, we could see if we could at least get to the ridge, which as in sight. However, if a gust of wind came at the wrong time, it could easily blow any one of us off the side of the mountain. It was that point, in the interest of safety, that we decided to stop the hike. More people die on mountains in the UK than Mount Everest - as mentioned by our experienced ML.
After a tiresome day of traveling, no sleep, pain, and fatigue (and being soaked), I managed to check into a Holiday Inn in Chester and rewarded myself with a pint of Guinness and a Fish and Chip supper and pretty much slept for 10+ hours while my boots, etc. dried next to the radiator.
-End of Story-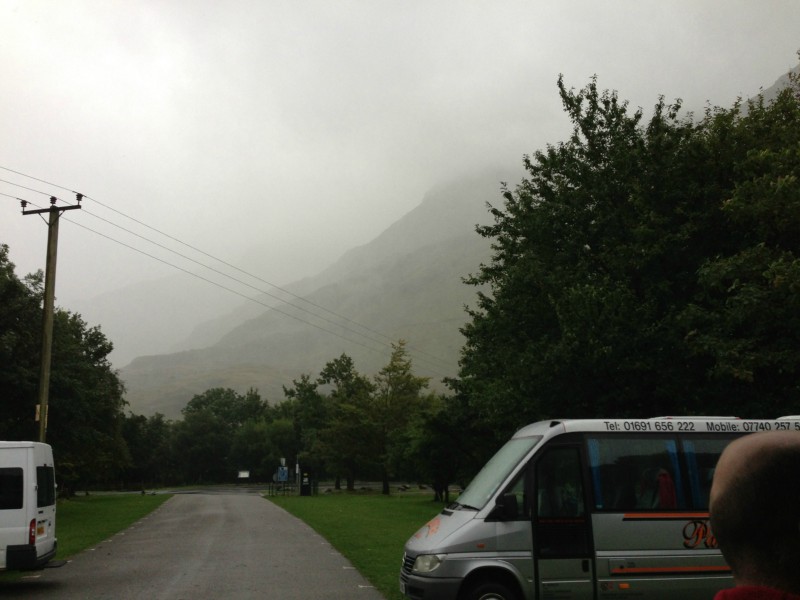 Hello and thank you so much for visiting my fundraising site: "Rod's Challenge For Children"! One of my favorite quotes is, "Be the change you wish to see in the world.". Mahatma Gandhi had this right. This webpage has information about how I plan to use my skills to help build better childhoods for kids who require medical technology to sustain life. Please take a couple of moments to educate yourself about possibly donating to my cause.
Please
CLICK HERE
to download the flyer and help promote this fundraiser.
THE TARGET:
I aim to raise $25,000 USD to support The Medically Fragile Children's Foundation of Northern California (MFCFNC).
Donations accepted through this website will incur an automatic 5-7% processing fee, which is taken out for administrative costs by this hosting website
. Note that 100% of the collected donations will go toward supporting the MFCFNC (field trips to concerts, games, etc; efforts to facilitate family visits; and general connection with childhood experiences). Travel, guide/registration, and fundraising-incidental fees are solely being covered through personal/private funding.
THE CHALLENGE:

I have enrolled in an expedition on September 14, 2013, called "The Three Peaks Challenge" in the United Kingdom (UK). This adventure includes hiking up/down the largest peaks in Scotland, England, and Wales within a 24-hour period (including driving time). Here are the 3 peaks:
1) Scotland, Ben Nevis (4409 ft)
2) England, Scafell Pike (3209 ft)
3) Wales, Snowdon (3506 ft)
In an effort to make this fundraiser more meaningful for potential donors and for the children we serve, I aim to complete this challenge WITH a ventilator (life support) and ventilator battery, totaling 20 lbs (9kg), in addition to the water and supplies I'll already be carrying.
THE STORY:
As many of you know, I am very adamant about supporting anything that enhances the well-being of children, especially when it comes to kids with disabilities/special needs. As a former boy scout, camp director, programming director, etc. I have had the privilege, as a camper and staffer/management, of knowing the importance of remaining connected with peers and the community. Camping opportunities (residential/day) hold a special place in my heart, right next to these children who have disabilities that limit their true potential and opportunity to live as happy as a life as they can. Every child, regardless of their situation, deserves the
RIGHT
to as many "normal" childhood experiences as possible.
Just in case I have not shared my most wanted goal in life, here it is:
To build, from the ground up, the FIRST (there may be a similar program in existence, but am unsure) hospital:camp collaboration in the United States.
This would be a on a plot of land, where on one part, a camp would exist. The camp would have loads of adaptations (ramps, adequate power for medical equipment, pools, etc.) to make it as accessible as possible, both in the cabins and in the program areas. Programs would be ran by instructors who share a desire to do something wonderful for these children. On the same property, there would be a small hospital where children have access in case a medical emergency occurs. There would beds reserved for kids that are there on a long term basis and beds for respite care, who come from other hospitals in the state, but would have full access to the outdoors/programs, all within close proximity to medical support.
In the summers of 2006 and 2007, I had the privilege of leading efforts to provide day-camp experiences for about 15 children, who resided in hospitals. In 2010, I spearheaded a group of about 12 hospital interdisciplinary team members, comprised of nurses, doctors, respiratory therapists, social workers, PT/OT/SLP's to pave the way for 8 children to spend the night at a camp, AWAY from the hospital. We even worked with an electrician and property manager to modify the cabin's electrical infrastructure to ensure that there was adequate, reliable power to support all of the medical equipment. The children had a blast engaging in programs with their counselors, peers, and nursing staff.
Unfortunately, for 2 of these children, it would have been their first and only time to have spent the night outside the walls of a hospital...
I have been so blessed to have met and worked with so many wonderful, amazing, inspirational, and talented people in my life. It is those people that have offered to run programs such as adapted surfing, horseback riding, outdoor living skills (setting up a tent), etc. that drive me to want do so something to contribute to humanity. It is my true hope to not only serve these children, but to provide a foundation and conduit for these amazing colleagues of mine to use their talents in a truly meaningful ways.
This is where I draw my happiness and motivation in life; service to the community and making better childhoods for kids.
THE CAUSE:
In 2011, for my 30th birthday, I had the honor and privilege raising funds for The Children's Trust - Tadworth, a charity in the United Kingdom that supports children with medical and special needs. As a result of overwhelming donor support, including Ninja Star Sushi Bar/Restaurant in San Jose, over $3000 USD (£2000 GBP) was raised for this absolutely worthy cause.
Currently, I serve as President/CEO of the MFCFNC, a non-profit (501(c)(3) (pending)) supporting children who require medically technology to sustain life. It is our purpose to connect these children with as "normal" as a childhood as possible. I want to use my involvement with the MFCFNC to help achieve my aforementioned goal of building a camp/hospital collaboration at some point. The MFCFNC's existence revolves around "Building better childhoods". This is what we do:
MFCFNC Mission Statement:
The mission of The Medically Fragile Children's Foundation of Northern California (MFCFNC) is to serve children (up to 21 years of age), who require medical technology and intervention to sustain life, and connect them with the innate experiences associated with growing up, just as their peers without such limitations experience. The MFCFNC supports children who reside in Santa Clara County, and its surrounding areas, and are consumers of Medi-Cal's "pediatric subacute care"/ "pediatric day health center" programs or similar services.
If you would like to download a copy of our current Annual Report, which includes more detailed information about our Board, cause, past initiatives/events, and financial accountability/reporting, please visit our website at:
http://www.mfcfnc.org
.
***NOTE ABOUT DONATIONS / TAX-DEDUCTIONS
***:
The MFCFNC currently carries a "Charity" status with the State of California (
Click HERE
for our Franchise Tax Board Determination Letter). With respect to the IRS, the MFCFNC's application is currently pending and be effective retroactively to the date of formation when approved. All donors will be notified of the approval as soon as it is received by the MFCFNC.