Help me SAFELY spay/neuter 10000 pets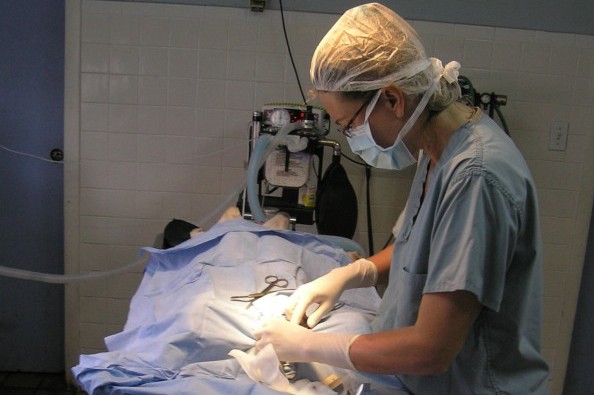 Raised: $11,180.00
Goal: $25,000.00
Created by
Robin Brennen
160 Friends
Contact
Embed
Wish List
Contribute any amount to the items below.
Created by Robin Brennen on May 8, 2013
I have been a veterinarian for over 20 years. I also am an avid traveller. I can recall on countless occasions being in a country where the stray population was abominable and the level of health care and opportunity abysmal. I thought, "Hmmm, someone should do something about this". Then it dawned on me, that I AM someone. I started volunteering my time for a variety of organizations over the years, personally funding my travel and bringing much needed supplies. In 9 years I have participated in 9 clinics that have spayed and neutered over 2700 animals collectively. During this time, the concept of Pets without Vets was born.
Pets without Vets is the name I have been using to solicit the other like-minded, highly skilled veterinarians and licensed veterinary technicians, in donating short term services and expertise at specific locales around the world for brief but intensive spay-neutering clinics. I organize the manpower, travel and equipment and I partner with local individuals and/or small organizations to help set up the effort. I have recently focused efforts in areas of the Caribbean that are particularly overwrought with dog and cat populations in terrible need of health services, population control and future healthcare oversight. Though these animals are residents of third world countries, I believe I am obligated to uphold the same standards of care that my patients in the USA enjoy. This means safe, balanced anesthesia and pain management and proper anesthetic monitoring equipment. I am seeking to enhance my current equipment cache, so we can employ advanced monitoring to these patients who are often in poor health and have a higher surgical risk. Any money left over will be used to finalize Pets without Vets 501 C3 status.The next trip will be to Turks & Caicos in October 2013. These islands are known for a huge homeless animal population which is exceeding the local community's ability to mitigate. With few veterinarians on the island it is difficult to manage the problem despite all good efforts. I will be working with local organizations, Potcake Place and the Animal Welfare Committee, all dedicated and committed volunteers, as well as the Island Government who will be assisting us in permitting and supplies. It is encouraging to see local government recognize that it is good business to curb out-of-control animal populations which effect the tourist trade and the island economy. I promise to use all monetary gifts to effect positive change in under-served animal communities and to enhance the quality of life of these animals by providing compassionate, humane and technically advanced medical care and surgical services, public education and community awareness. I hope you will consider contributing to this effort. Any size contribution is enormously helpful.
Recent Donations (120)
$11,180 raised by 120 people in 10 months.
$100.00
Lori Tartamella
1 day ago
$50.00
Stacey Houck
2 days ago
Thanks for all you do!
$20.00
Kristin Armstrong
2 days ago
Grover, Izzy and Boo emptied their piggy banks!
$10.00
Nancy Horvath
4 days ago (Monthly Donation)
$900.00
Chris Von Gartzen
10 days ago
In memory of my beloved Bella, 2003-2013. For the purchase of Vet Dop blood pressure monitor
$25.00
Alexa Scott
11 days ago
In Honor of Max Rudd, hope your smiling from above at your moms new potcake kids.
$50.00
Agnes Davis
15 days ago
Doing my little part. I wish I could do more. Maybe even travel c you and the team. Big hug.
$50.00
Valentina Deriabina
15 days ago
$50.00
Betsy Green
22 days ago
$20.00
Anonymous
23 days ago
1-10 of 120 donations
Next