Hope for Lor's Life ~ Help Beat CIDP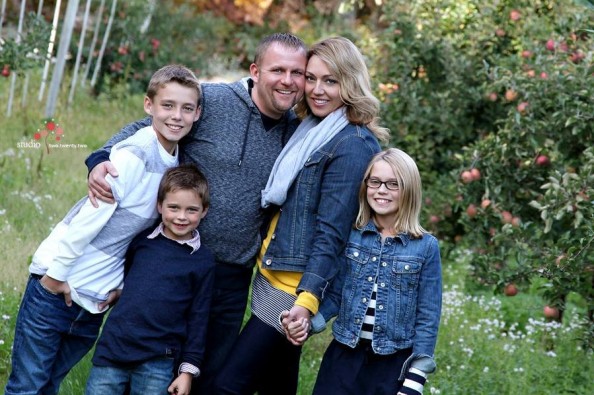 Great News! Lori came back from Chicago today. Thank you for all your donations and prayers. We could not be doing this without all of your support.

Dr Burt and Dr Allen both thought she would be a great candidate for the HSCT (transplant). This is what we were hoping and praying for. This is the chance for Lori to get her life back! We are now waiting for the insurance and financial approval. Please continue to share this link and help my daughter reach her goal! Please keep Lori and her family in your prayers.

God Bless!
Bertie

As some of you know my daughter (Lori) was diagnosed with a rare debilitating disease in 2012.  Lori has a husband (Jason) and three beautiful young children (Keagan 12, Kyleigh 11, and Kamdon 6), and needs help beating this rare disease.  The rare disease is known as Chronic Inflammatory Demylelinating Polyneuropathy.  An autoimmune disease that attacks the nervous system that has no cure but is treatable through different treatments.  She has been scheduled for an evaluation at Northwestern University with Dr. Burt for a stem-cell transplant.  This cutting edge medical procedure offers a lot of hope for our family because Lori is no longer responding to her current treatment and over the last year her health has been slowly deteriorating.  She has limited use in her hands and has drop foot in both her feet.  The muscles in her legs and arms are serverly atrophied.  At times she deteriorates to a paralyzed state.  She has recently devoloped tremors, severve ataxia (no balance), and blurred vision.  She has a nurse coming to the house every nine days to give her steriods through an IV and has an IVIG at a very high dose which can have many serious long term side effects.  I am praying this procedure not only helps Lori go into full remission but also help to eliminate future home nurse visits.  She has recently lost the ability to carry out simple everyday tasks and work as a dental hygienist.  This disease is very frustrating for Lori and I wish I could simply take it away. 

I am so excited there is new hope for Lori by participating in a stem cell transplant at Northwestern University and praying everything will go as planned.  The treatment is called Hematopoietic Stem Cell Transplant.  Lori will be in Chicago for 2 months and undergo intensive Chemotherapy and harvest new stem cells that will be transplanted to give her a new immune system and new life.  

Since I can't take it away I am asking kindly for your help.  To help erase the financial burden that this disease is causing please consider contributing to help with the associated costs.  Costs that are not covered by insurance, travel expenses, and loss of wages.  Please pray for Lori's health.  She is looking foward to becoming the mother and wife she once was.

During a time like this, I am asking for your support. Any little contribution will help.  Please share with friends and family. Thank you for your thoughts, prayers and generosity. 

Lori's Mom ~ Bertie
What is GoFundMe?

Fundraising made easy >>
CONTACT
LINK
POSTER
REPORT
Jim and Nancy Fliearman
14 days ago
Thinking of Kolby's friends!!
Marshall Lewis
16 days ago
Lori I have received this money anonymously, it could have gone to the woodshop but I want you to have it! You are like a mom to me and Jason has been like a dad! You guys would do anything for me and I would do anything for you! This is why I want you to have this! Thank you for all you do. Love Marshall Lewis CEO of Lewis and Mills Woodshop
Trisha Cornelius
19 days ago
Martha Thomas
20 days ago
Keeping you in our prayers.
Theresa Akatiff
22 days ago
We LOVE you turkey head. Can't wait to follow your success story! You got this
Denise Thorlund
23 days ago
Our thoughts are with you...
I don't know you. But I wish you the best.
LAPD Pay it Forward
24 days ago
Positive thoughts and wishes from the LAPD Pay it Forward Team