Be the first to like this update
Hi all!
Sorry to not have updated on Bastian's status recently, things have been very busy. But the good news is that Bastian is almost 100%, about as 100% as a dog can be that is missing a leg.
He's eating like a champ, drinking like a champ, and peeing like a champ. He jumps on furniture, chases tennis balls, tries to run crookedly but doesn't always succeed, and is licking and loving on everyone who stops by to see him.
The only thing he's not doing so great is stairs yet. He can go up them, but is weary on his balance going back down so we've been blocking his access to stairs for a while.
The vet took his stitches out and said he looked amazing. She was impressed at his recovery time and that he was so lovable. Of course, the only time she had seen him he was in pain or sedated, so she was pretty much seeing a brand new dog.
I suspect I have hit the limit on donations, which is perfectly fine because you guys did AMAZING and helped me out so incredibly much. $4015 raised?? How awesome is that???
I am in the process of compiling a thank you letter to the veterinarian with all your comments and information on what you all have raised. I figured it would be a nice gesture.
In the mean time, a recent picture of my boy: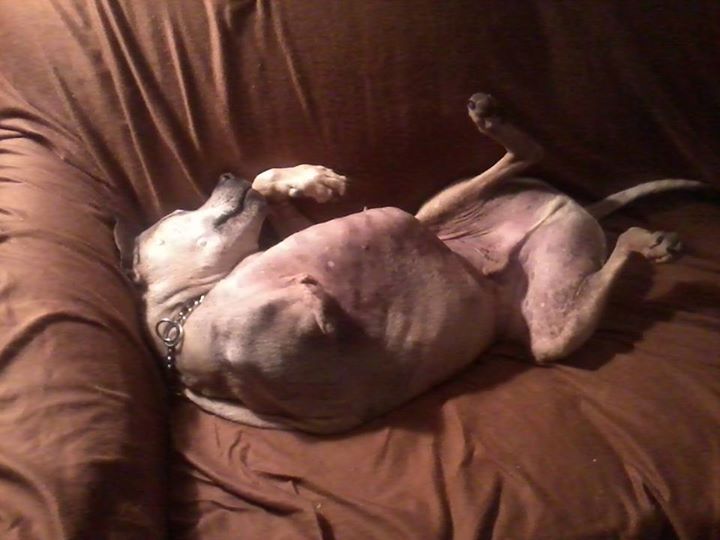 Last night (10/24/2013) I accidentally ran over my dog in the driveway when I came home from work. It was dark, and Donald and he were outside waiting for me to get home. See, for the last 10 years it has been Bastian's daily ritual to run down and greet me in my car once I got home, literally every single day that I come home. Usually this is after I have already pulled in the driveway, but occasionally he is out there early.
Because he is so fast, gets so excited, and (I suspect) his vision is not the best at his age, he sprinted straight for my car and went under the front passenger wheel.
The sound he made is pretty much forever etched in my memory at this point, and I know I was not far from collapsing myself, once I realized what happened.
Anyway, anyone who knows me knows that this dog is a huge part of my world. Anyone who has ever been over my house knew they were not leaving without Bastian putting his butt in their lap and licking their face. My father has conversations with Bastian, it's quite silly and adorable at the same time. Since my father is disabled and I am his caretaker, I like that him and Bastian spend time together during the day while I'm at work that way neither of them are lonely. You can see a gallery of some pictures of Bastian on a public Facebook album:
https://www.facebook.com/crystalgroves/media_set?set=a.27463495973.47574.728865973&type=1
I stayed at the vet till late last night so I could at least find out what the x-rays showed. There does not appear to be any internal injury, though they want to continue to monitor his blood and stool for any changes. His right front paw is partially "degloved', which means the skin was peeled off of the meat and bone. He also has some fractures in his paw and according to the emergency vet I spoke to this morning, he is still in some significant pain. They are doing a sedated bandage change around noon today, and then I may be able to bring him home on antibotics and pain meds until we can schedule surgery with a specialist due to the nature of the trauma.
I have hopes that physically he will be okay. I really hope he does not fear me or change his happy demeanor from this experience. I love my dog and would give up almost anything for him.
Last nights visit I was quoted $1400 for the emergency care for 14 hours. This does not include any surgery, which I suspect will be another hefty $2k or more. I do not yet know the final cost, but am asking for help. I put down $700 last night for the deposit for his care.
It has not been an easy year for me suffering through job loss in March, and even though I am employed again, I am still taking care of catching up, taking care of my dad and paying all the bills, and dealing with a slew of other financial crap right now (such as Donald's truck dying and us buying him a used car this past weekend so he could keep HIS job).
So if you are a pet lover like me, if you have an unexplainable bond with an animal, then I'm sure you know part of what I am feeling. I can't help but feel guilty and like I have wronged him in some way, but I know everyone keeps trying to tell me it's not my fault, he'll still love me, etc. I can't help but still take responsibility because I am his caretaker and I should be protecting him.
I had originally started this fund for Donald's HVAC training, but have decided to use the money raised for that towards Bastian's vet bills instead. So for those of you who asked for a way to donate, I think this is probably the best way to do so.