SMB Tribute to 2 NUFC Lads RIP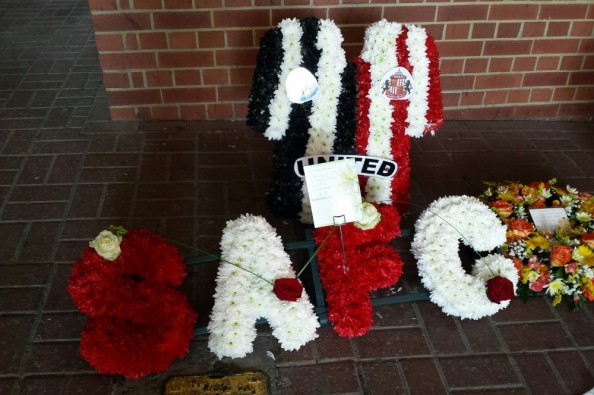 Unfortunately SAFC couldn't make up the money lost to the charges so I've now sent the money to the charities. Breakdown is as follows:

Fund money after charges and minus the £200 for flowers - £30,318.96

Donation (direct to me) from Roger at the SMB forum - £99.04

Total for the 2 charities - £30,418

Therefore each charity has received £15,209.

Thank you to everyone who has donated, it's been emotional :) This is a fantastic tribute to John and Liam, and to all football fans throughout the world and especially here in the North East.

I will post on here the invoice emails from the charities when I get them.

We may be Sunderland fans, who traditionally have deep rivalry with Newcastle, but there are things far more important than any football games. The incredibly sad news that has emerged this week about two Newcastle fans who have passed has left us all shocked and deeply saddened. Donating here will help pay for a floral tribute to those fans and to unity between the two clubs. Any extra money will be donated to a charity that has yet to be decided.
Thank you for your time, effort and donations.
RIP to John Alder and Liam Sweeney, who were both far too young
Read more:
http://www.readytogo.net/smb/threads/floral-tribute-for-the-newcastle-lads.943399/page-13#ixzz37rX8QJ3p
What is GoFundMe?

Fundraising made easy >>
CONTACT
LINK
POSTER
REPORT
Brandon Clarke
7 months ago
This is made on behalf of the Yellow Fever, fans of the Wellington Phoenix Football Club, in Wellington New Zealand. After we heard that Liam and John had been tragically lost on their way to support Newcastle United in New Zealand we started a collection. As one person commented "No one deserves to not come home from a football match." The thread in the yellow fever forum where the collection was discussed is here: http://www.yellowfever.co.nz/categories/wellington-phoenix-discussion/topics/yellow-fever-collection-for-john-alder-and-liam-sweeny-memorial-fund
Anita Rowell
7 months ago
Carol Kidner
7 months ago
From Middlesbrough Official Supporters Club, a collection was made at our meeting tonight. R.I.P.
Graeme McMurray
7 months ago
Karen Searle
7 months ago
Lesley Lines
7 months ago
Speaking as some one who has Sunderland, Newcastle and Manchester United fans in their family, opinions regarding football can be quite vocal at times! I am proud to say that on this very sad occasion, those 'rivalries' have been set aside. For John & Liam, God Bless. xx