Adrenaline Alley Vert Riders Coalition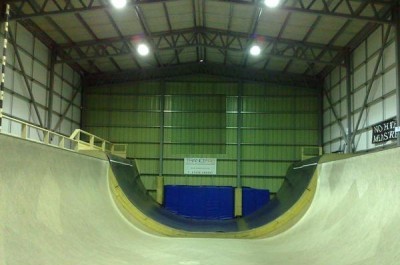 To everyone who donated money to the re-surface.... We have hit a problem and as it's your money I would like you to have a say in what happens next....
Some members of the group are not satisfied with the current written assurances we have received about the future of the ramp from the park and are saying we should not hand over the money for the re-surface which is provisionally penciled in for 2 weeks time. I do not share that view, I think the current assurances met what we originally agreed to asked for. In order for you as the people who are paying for the re-surface to take place to have your say I need to invite you to a private group on Facebook where there is a document for you to read from the park and then a poll for you to vote on about whether you're happy for us to hand over your money or not. As I say I am for handing over, i think the park have agreed to what we originally said we wanted (our original proposal). This was a minimum 2 year window that the ramp is safe from threat and an agreement to put aside funds for future re-surfaces (next one due in 5 yrs time). So ... I don;t have all of your details so invite you to the private Facebook group. Could you all add me as a friend on Facebook and and then private message me your email address so i can invite you to the group. Time is of the essence and so if you want a say in what happens next we need you to join the poll before next thursday.
If you're a fan of Vert riding please help us.....
We are the Adrenaline Alley Vert Riders Coalition. We are a group of bmx, skate and inline riders (and their families) who all use the Vert Ramp at Adrenaline Alley in Corby, Northamptonshire, UK. (see picture above).

We are raising money to re-surface and refurbish this world class vert ramp. Unfortunately the ramp has fallen into some dis-repair in recent years and the park don't currently have the funds to repair it.

As a result the ramp isn't getting used much now because the ramp it's riding slow. The lack of use has put the entire future of the ramp into question.

The ramp is unique at 50ft wide and 14 foot tall with a 25ft resin ramp attached in a purpose built building with around 20 ft of roof clearance. It would be a travesty for one of the best vert facilities in the world to be lost.

The park have however given us written assurances that should we be succesful in raising the funds, they will work with us to support the on-going future of the ramp and in future put funds aside annually to make sure that there should always be the funds to re-surface it every 5 years from now onwards.

The re-surface is part of a wider plan by our group to re-vitalise the ramp with a new European Level pro/am competition planned for 31st Oct - 1St Nov 2014 Vert Wars). We will also be setting up a program to coach new youngsters interested in riding transition and vert from the local area. Starting just as soon as the ramp has been re-surfaced.

Help us save this majestic ramp and give it a bright future. ALL donations are welcome. We need £3,000 ..... 3,000 people all giving £1 would be fine by us.

So even if you can only spare a few quid your donation will be gratefully recieved.

Please donate.

Many thanks,
The Vert Riders Coalition
What is GoFundMe?

Fundraising made easy >>
CONTACT
LINK
POSTER
REPORT
Benjamin Kopp
1 month ago
Alex Griffiths
1 month ago
London's already lost its vert, we can't lose this one too!
Jussi Korhonen
1 month ago
all i can afford this week more to come next week if needed ;-)