Wow! Rehearsals are moving right along and we are super excited that all the pieces are coming together. So many of you have offered support and we are ONLY $1,160 bux from our final goal!!!
We can do all of this with a little help from our friends...if you can spare a little, it will mean a lot!!
The price of flameproofing, certification, set building, set supplies, labor put us above our original budget. Here's another glimpse at our rehearsals...Besties, Ashley (Christa Meyers) and Jim (Samuel Floyd), sharing a moment.
Thanks Nori Tecosky for taking this shot!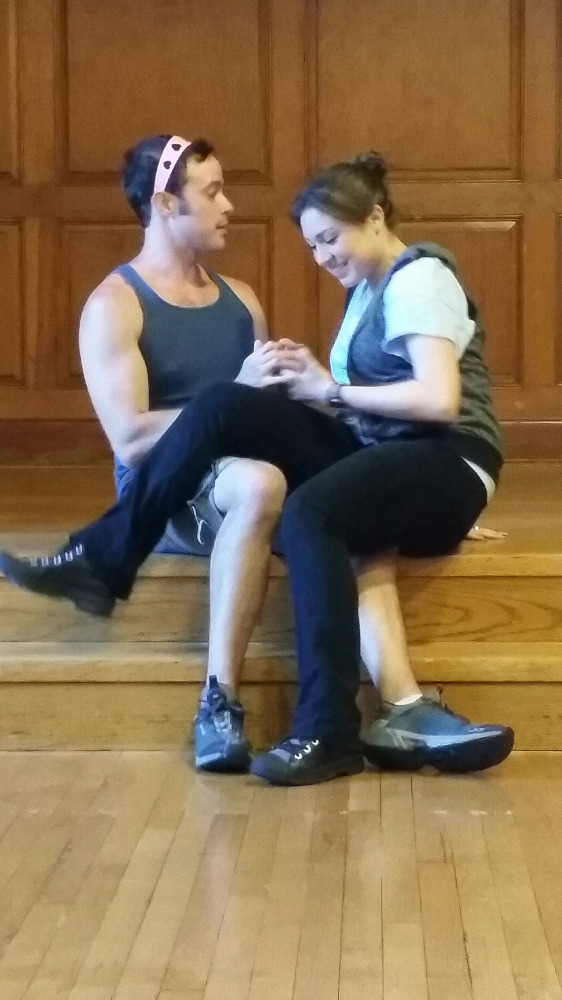 Kutumba Theatre Project is proud to announce that Baby GirL, an award winning play, written and directed by Kim Ehly, is going to NYC! Baby GirL was selected from thousands of scripts and got ACCEPTED into the FringeNYC Festival!
Yup, in NEW YORK CITY! The play enjoyed a highly successful World Premiere in South Florida with SOLD OUT shows and critical acclaim and now we are headed to the BIG APPLE!
DUE TO THE HIGH COST OF SET PIECES, STORAGE, AND FLAMEPROOFING, WE ARE IN NEED OF AN ADDITIONAL $1,250 BUX! ...and so, that's how producing a show in the THEATRE CAPITAL OF THE WORLD goes! Can you help us out? Our new DEADLINE for the additional costs is August 8th!
We need your support to produce Baby GirL in the most amazing theatre city in the world as part of the FringeNYC Festival in summer 2014. Any amount makes a difference...$10 bux, $20 bux or $1000...we are grateful!
The playwright/director/producer, Kim Ehly, was the first female playwright to receive a Silver Palm Award for penning Baby GirL.
She was also nominated for a Carbonell Award and Broadway World Award for Best New Work.
Baby GirL was named (included all plays produced in South Florida) in the Top Five Plays by the Sun Sentinel, Top Ten by the Miami Herald, and Best Debut by Florida Theater Onstage.
About Baby GirL:
Baby GirL is a semi-autobiographical comedy with a touch of drama told in a fresh, fun, and quirky way.
What if you were conceived twice in one lifetime: once by the illegitimate, passionate sex of a young couple in love, and next by a "missionary position" lovemaking, conservative married couple, who long to have a child, but the "little guys" never make it to the egg? What if you were adopted by the married couple, only to find out you are everything they can't stand, I mean :understand?
After coming out as a lesbian and being alienated by her adoptive family, Ashley, a spirited young daydreamer, goes on an extraordinary journey to find love and a place to call home. When Ashley's fantasies meet reality, expect the unexpected!
To borrow from
Christine Dolen of the Miami Herald's review
,
"Baby GirL is full of serious ideas and themes, not to mention inevitable flashes of pain when Ashley faces judgment and rejection. Yet for all its depth of feeling, Baby GirL is a joyous celebration of one woman's journey toward happiness. Baby GirL is sweet, funny, touching, unsettling, tender. It's an artistic offspring that would make any playwright proud. Ehly makes a persuasive case for looking beyond blood bonds to find family in those who love us. And in Baby GirL, she makes an impressive playwriting debut."
Some of the items your
donations will help pay for
: casting held in NYC, audition space in NYC, rehearsal space in the Big Apple, eight actors' stipends, several designers' stipends, Stage Manager's stipend, festival venue fees, set pieces, marketing and limited advertising, props, PR, postcards, fliers, posters, and the list goes on and on and on and .....
To those of you who saw the original production, I want to say thank you for going on the journey with me. You all have been supporting me for a long time and I am incredibly grateful...grateful for the family of friends you are to me :)
Thank you for believing in me and my work! Now if you would be so kind as to START SPREADING THE NEWS!!!!!!
(or sharing the news by hitting "share")
Website for the play:
www.babygirltheplay.com