Funding Gap for Disability Clydene Nee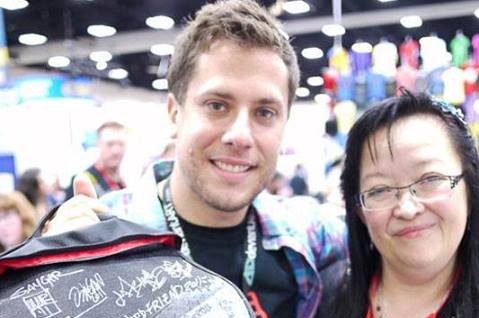 MANY THANKS to everyone who dropped off donations to Mark and Lisa Brook's booth 5557 during Comic-Con. AGAIN BIG HUGE THANKS to Mark and Lisa Brooks! You guys are my Heroes!

Thank you Allison and Adam Hughes for the Wonder Woman drawing for the auction.

I am still recovering from the show. It really took a lot out of me this year.

Lots of people asking about he donations and the auction.

On advice from a financial wiz; he said Ishould wait until September because people are still recovering from Comic-Con.

Artists have been contacting me about where to send donations. I have a box at the local Postal Annex so they can be safely received during the day.

Clydene Nee
8677 Villa La Jolla Dr #347
La Jolla, CA 92037

I am still trying to work. I took an extra day off after Comic-Con to recover and I probably should have taken a lot more, but I am running out of sick leave and vacation at work.

I am doing okay, taking everything in stride I did get sick at dialysis on Saturday and threw up 5 times during the session and made them end the session 15 minutes early because I was so sick. My blood pressure dropped again to 80/50, which is pretty low, and i got pretty dizzy which causes the nausea. But I am doing okay because I am getting used to feeling the way I do now.

I promise to post pictures of the donations of artwork as soon as I can. Being sick this weekend took the wind out of my sails again.

Hope you are all doing GREAT!

Much Love,

Clydene



Due to a box not being checked on my original employment form I am not covered by the extra disability insurance at work and only have $800 a month coverage, which cannot cover my living and medical expenses in the up to 6 month waiting period.

I am stuck because although the Affordable Care Act allows me to buy insurance between that and Medicare, which I qualify for under kidney failure Ends Stage Renal Disease; no insurance company in the State of California has to sell the_Medicare supplement insurance to people with kidney failure. So I have to keep my health insurance from work, which is very expensive under Cobra.

I_think I will be okay once I qualify_for Federal Disability, but that can take 6 months or more, so I need to raise some money to pay my health insurance and some living expenses.

I hope you can help.

Clydene
What is GoFundMe?

Fundraising made easy >>
CONTACT
LINK
POSTER
REPORT
Godspeed CLYDENE! We LOVE you! Thank you always and for everything you do!
I've been going to SDCC since 2001 and Artist Alley is always the part I look forward to the most. I wish you a speedy recovery.
Heather Theurer
1 month ago
You deserve the very best of everything, Clydene! Thank you for all you have done!
WildstarTempest Inc.
1 month ago
We wish you all the best from Heather, Russ and Alexander
Shelton Drum
2 months ago
Andrew Kudelka
2 months ago
Clydedne: may you become stronger, better, faster as soon as super-humanly possible!
Matthew Fletcher
2 months ago
Stay well Clydene!