It brings me BIG Sadness to have to tell you.... Bigfoot Passed Away yesterday ... Thursday 2/27/14

Wednesday, Steve took time off work to bring The Big Fella to the Vet. He seemed weak and really did want to eat or drink much. Dr. Bolivar told us he must have an infection, white blood cell count was high on his last blood work up, when we brought him into the other Vet. He was running a temp of 103.2 so the Doc put him on I.V.'s

Yesterday while at work, Dr. Bolivar called me with the sad news.... I was and am heartbroken. I wonder if the tears will every stop.

After about an hour of disbelief ... I walked across the hall to see my wise, good friend who helped me get Bigfoot home the first day. A lovely Welsh Woman named Rosemary... With tears rolling down my face she shared a poem by; G.K. Chesterton
Beyond Wonder

If seeds in the black earth can turn into beautiful Roses

What may not the heart of Man, Woman (she added) or even Bigfoot, Become in its journey to the Stars

With that I was able to go home last night. I met my husband at the door where we with both shared the same tears.

Rest in Peace my Big Loyal friend ... You will never ever be forgotten! I am glad you felt the grass beneath your paws... It saddens me we were unable to take that walk on the beach I promised you once your knee was fixed.

Thank you to the two Jens on my floor... To Vicki at work.... Nicole, Angela & David. All my friends.... That have supported Bigfoot...

A Special Thanks to my Media peeps, Mike Smith you are amazing... Jen Craft... Nikki from Gofundme... All the newspaper media people that put his story out there... Much love!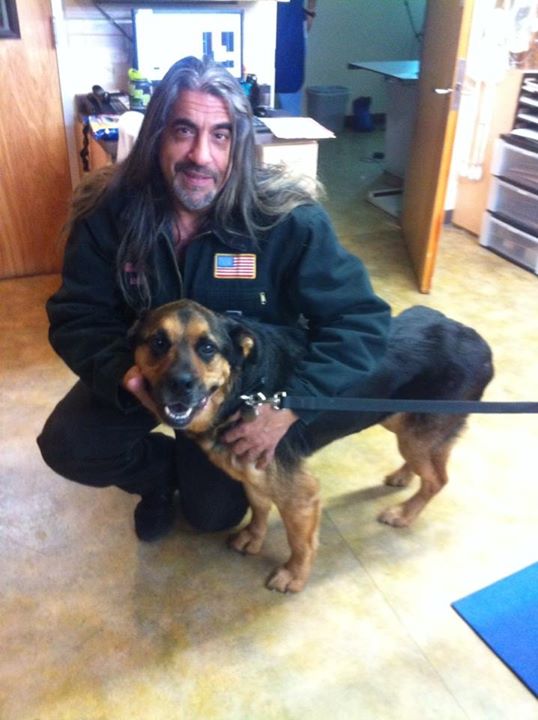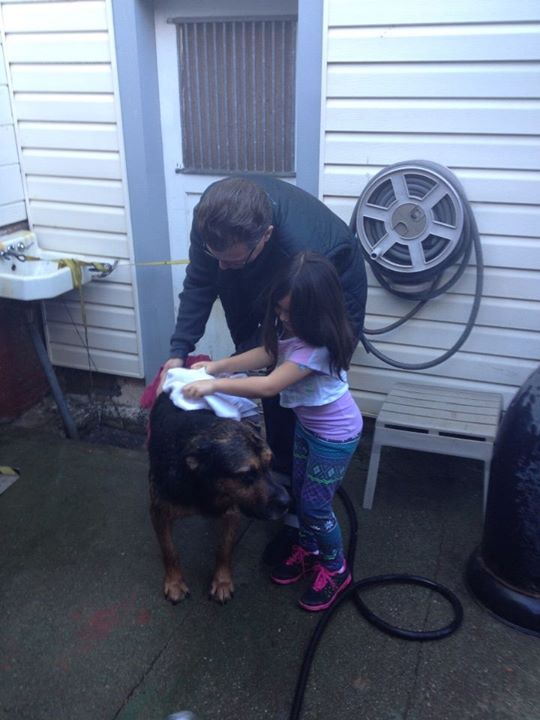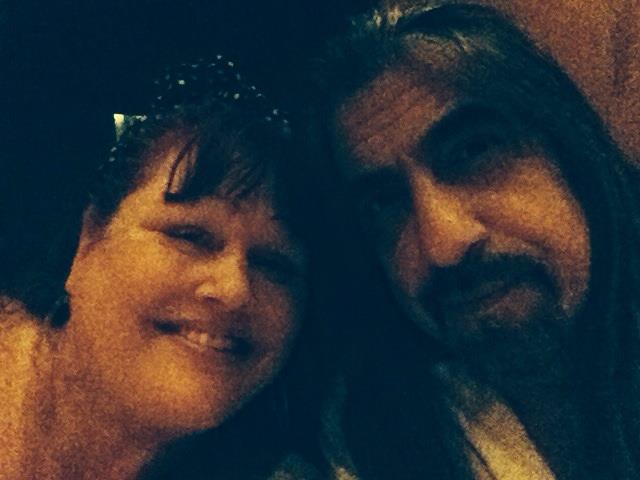 Hi I'm Lisa and this is my husband Steve... Let me tell you a story of the most Amazing creature, his name is BIG FOOT. On Valentines day, February 14th, 2008... I started my new job at ProTech Security, a Security Guard service company, located in Oakland Ca. On Broadway Street located btwn. 19th and 20th.

Commuting from San Francisco to Oakland on Bart, walking toward my new job, I passed by a scooter shop. There was a load noise of a huge dog pouncing against the glass door, followed by a ferocious bark. I was overcome with reverence and respect. The great beauty, sublimity and might of this amazing creature.



Later on that day I met the owner of the scooter shop and asked if he could introduce me to his watch dog. Big Foot was very friendly and loving. We became good friends.. No we became BEST FRIENDS.

Soon when I passed by in the mornings the bark was no longer ferocious but more friendly bark, as if to say good morning. BIG FOOT became the neighborhood Mascot. He posted up in front of the store unleashed and never would hurt a flea. He has a special place in his heart for Children and Disabled people. Anyone in a wheel chair was greeted by BIG FOOT and was instantly in love as I was.

Every night, when I got off work, BIG FOOT saw me and walked me to Bart. He watched till I walked to the bottom of the last stair, till he couldn't see me anymore. Now when I come Home at Night He and Courtney watches me come up the stairs and Greets me With Love and Compassion!!

Rob has recently closed the scooter shop and has opened a new trendy place called "The Shadow Lounge". Rob approached me and felt it was time for BIG FOOT to spend his retired years in a home with a big yard! Thank you Robert for sharing your wonderful dog with everyone in Oakland!! Thank you for all your Love & Care... He has touched our lives over & over again.

So BIG FOOT has moved in with me and you can't imagine the LOVE and All the NEW Friends he is making.

BIG FOOT has received his Doggie SHOTS and
But now the big fella needs leg surgery, like older Rottweilers often do. It's a high price, and so i am asking people on the block to chip in for a dog they all are fond of. I am making progress but need more.


Saturday he enjoyed getting a bath in his San Francisco Home with warm water and lots of love & bubbles. He gets along with all other animals... My other doggies Courtney, Chopper & Bear.

Sunday night BIG FOOT suddenly took a turn for the worse. He had a hard time standing on his own and was admitted to VCA San Francisco Veterinary Specialists- Located at 600 Alabama Street in San Francisco. They are running a series of test and when he is ready he will be having knee surgery. Needless to saw I need help with the Vet Bills I want to save this amazing dog and bring him to the beach where he can feel the sand in between his paws. Thank you for your love & donations!

Love,
Steve, Lisa & Most of all... BIG FOOT!!