Stephanie Moore for County Commission
Raised: $1,565.00
Goal: $5,000.00
Created by
Stephanie Commish Moore
1848 Friends
Contact
Embed
Created by Stephanie Commish Moore on June 5, 2013
I'm excited to announce that I have filed the necessary paperwork and am now a candidate for the Kalamazoo COunty Commission, District 1 August 2014 primary election!

My campaign slogan is

"1 MOORE Progressive Voice for Kalamazoo County!"

As you are aware, I have faithfully served on the Kalamazoo City Commission since 2007.  

Please join me and other "Friends of Stephanie Moore" on Thursday March 27th at 5:30 pm at the Gatsby - 300 W Michigan Ave for my 42nd birthday celebration & campaign kickoff!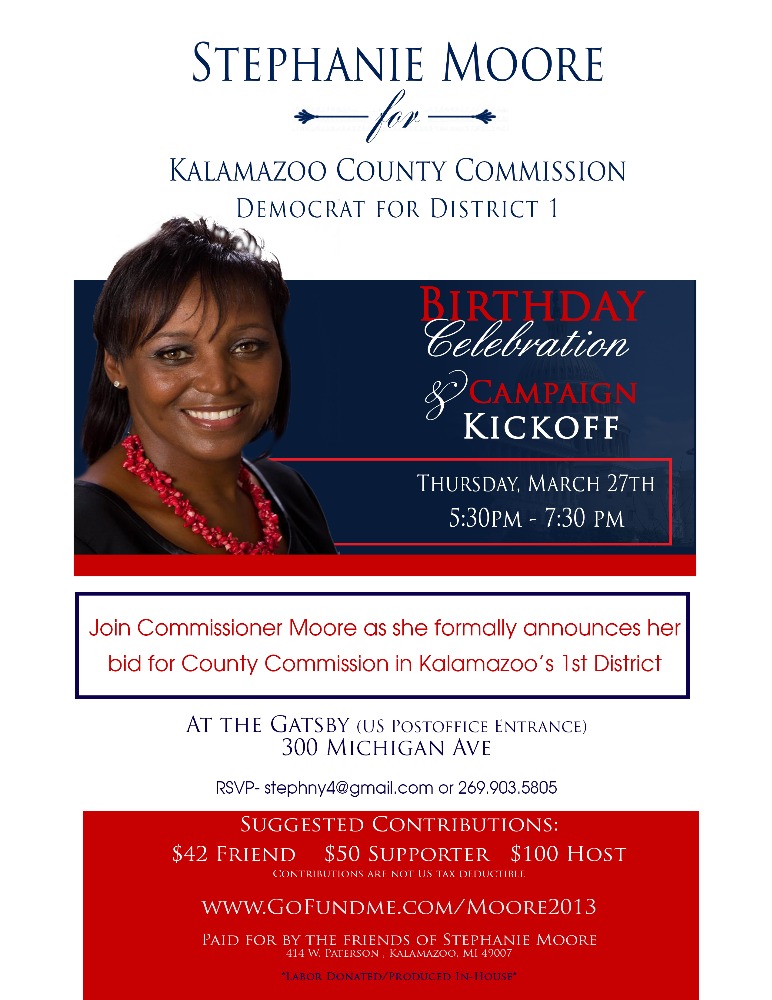 Recent Donations (31)
$1,565 raised by 31 people in 9 months.
$25.00
Anonymous
4 months ago
$50.00
Anonymous
4 months ago
$100.00
Beryl Wilson Jr
4 months ago
Your passion, acumen, benevolence, and sincere committment is above reproach ...keep serving the citizens of Kalamazoo. Your are the cornerstone of this family and for that I'm grateful and proud...love you!
$45.00
William Brooks
4 months ago
$25.00
Anonymous
4 months ago
$100.00
Craig Owens
4 months ago
Stephanie, I apologize for missing all of your fund raising events this year. My schedule has been brutal this year and I now live in Battle Creek. Please continue your awesome commitment to the Kalamazoo Community and know that although I cannot vote for you, I am praying for your continued success and contributions to the City of Kalamazoo.
$20.00
Meredith Quinlan
4 months ago
Thank you for your service and your commitment to Kalamazoo!
$20.00
Anonymous
4 months ago
$25.00
Credell Jackson
4 months ago
Stephanie I have always admired you for your courage, beautiful spirit, and sense of responsiblity for others welfare. You are an awesome woman only if "you could be mine" lol Love ya CEO Credell Jackson http://IDEA-MNP.COM
$25.00
Anonymous
4 months ago
1-10 of 31 donations
Next