LLA-Nanny Farms Food Trough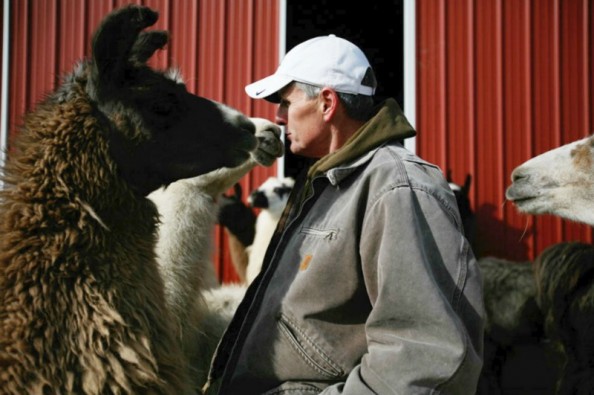 On behalf of the animals and myself, I wanted to take a minute and say "hi" to everyone. I wanted to touch base and let everyone know that the llamas and all the animals here at Lla-Nanny Farm are doing great. The days are growing longer and the grass is getting greener in which the animals are in heaven enjoying it all. I've been busy keeping up with the daily maintenance of the farm. I have been putting up some hay for the summer months and getting ready to start my shearing process of all the llamas. That in itself is a tremendous thing with nails to trim, fighting teeth to remove and vaccinations. The dogs are happier because they get to spend more time outside and the horses and geese spend their days just leisurely grazing about the fields. Summer time is a blessed time here at the farm and I am most humble to be able to share my life with so many wonderful animals.
I have been looking for work but unfortunately without success. I fear that with all the recognition I may have trouble returning to the work force. I'm not really sure what the future holds for me and the animals, but I do feel in my heart that God has brought us this far and he will continue to provide for us. I ask that everyone keeps us in your prayers and thoughts. I've noticed that donations are still coming in and want to thank each and every one for your acts of kindness. I appreciate you and the love that everyone has shown me and the animals.
Love, Kevin

"We can judge the heart of a man by his treatment of animals" - Immanuel Kant
Kevin runs LLA-Nanny Farms in Kentucky where he has taken in llamas, cats, dogs, chickens, donkeys and pigs.  These 300 animals who needed a home found one with Kevin.  A year ago Kevin was let go from his job as a day care director in Kentucky for being gay.  He took the matters to court for wrongful termination and though the judge agreed with him nothing could be done, because in Kentucky there are no laws that protect people from being discriminated against because of their sexual orientation.
Kevin has been out of work for a year now and is behind on bills, legal fees and is struggling to provide for his animals.
Had it not been for an article on
Buzzfeed
, none of us would know about Kevin, the man who's made a career and life by caring for others.  Let's rally together and help the man that helps so many.
What is GoFundMe?

Fundraising made easy >>
CONTACT
LINK
POSTER
REPORT
Beth Imbruglia
13 months ago
Kevin, sorry it can't be more. Keep believing in yourself
Charleen Gonzalez
13 months ago
My heart breaks to hear about the loss of power on your farm. I wish I could give more, but I pray a miracle will happen for you. Continue to stay strong for your animals, I know you are doing the best you can.
Stacy Phillips
13 months ago
I love you and what you do for God's creatures more than going to bars. I'm skipping the drinks tonight and hoping you and the babies find warmth soon
Keep on keeping on Kevin!
Jennifer Clark-Collins
15 months ago
Samantha Slone
15 months ago
I remember you being my sisters teacher! You were wonderful!
Gary Arbaugh
15 months ago
Anonymous
17 months ago (Monthly Donation)