No Day But Today; Helping Our Pal Jason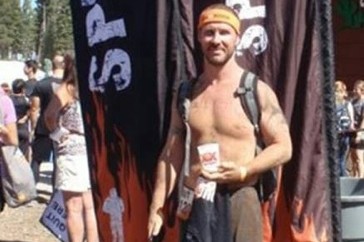 Wow, we hit our goal within 4 days! I can not thank you enough for all of your generosity and positive messages. Since Jason's condition is a long and treterous road, I would love to up our goal to provide a stronger sense of security for his family during the healing and recovery process. Please continue to share this site and post posters to spread the word about Jason and his family. Thank you from the bottom of my heart.
Jena Rindon
On February 9, 2014 our close friend Jason was involved in a tragic accident. He is the victim of a natural gas line explosion. As a result of the accident he was severely burned on most of his body. He is currently at the hospital fighting for his life. Jason is one of a kind.

He is the loving father of 3 children, a great partner and wonderful son. He will do anything to put a smile on someone's face. He is a manager at T-Mobile and loves his job. He works closely with customers and coworkers alike. Customers often request to be taken care of by him because of his vast phone knowledge and wonderful customer service. Overall, he is a great person. Although Jason has health insurance through his employer, he does not have coverage for a disability. This means that for most of the time that he will need to recover he and his family will suffer a significant loss of income and an increase in family expenses due to his special needs. We are requesting $40,0000 to help Jason and his family with unexpected medical and living expenses. Jason will need to stay in the hospital for quite a while. This means he will be unable to work and take care of his young family. Jason will need plastic surgery because he was so badly burned from the accident. The money will also go to defray the costs of deductibles and copayments for that procedure. Jason's life will be forever changed due to this accident. Please consider making a small donation to remove one source of stress from his life and to hopefully speed his recovery. Jason will be able to recover faster and better knowing that his family will be taken care of while he focuses on getting well. Thank you for your consideration.
What is GoFundMe?

Fundraising made easy >>
CONTACT
LINK
POSTER
REPORT
lucas doering
6 months ago
Hey hope you are getting better every day. This is from your old hunting buddy.
Maria at Younique
10 months ago
Thanks to the support of your friends I am donating 50 from the fundraiser party featuring Younique products...the 3D Fiber Lash Mascara. This is 20% of the total party sales. Anything I can do to bless a family. Jason I hope your recovery is going well and my thoughts and prayers are with you!
Carol Kiley
10 months ago
Prayers are said daily for a blessed recovery for you & your family.