Happy July 4th - please consider sharing my story, link - on Facebook, Twitter, Email as July 4th week finds us with some free time to explore. Thank you!
This has to be the week of the abs. As I sit and write this update they are in an almost locked position. The last week they have been acting up a little more each day, and this morning when I woke they were tight. Once in chair for about 30 minutes they became very tight, and it became harder to breathe and wheel. Even now I cannot stretch backwards while sitting down, muscles are in half locked position. I have said a few different times how it is interesting to feel my body being recreated and reborn from infancy to walking, all while alive and breathing. Well, today, this has to take the cake. If felt as if my belly was being transformed right in front of my eyes - with punches all while. Because it was! And continues to do so throughout the day - and I bet for days to come. It made laugh in a way - about one year ago while in the standing frame I suddenly felt my belly release, both upper and lower abdominal sections, and it looked as if I was with child, 3 months.....and then today it did the same thing in reverse...the baby belly was slowing being sucked back in the last week, and today I literally felt the top abdominal section pop back into active duty. Words are not worthy to describe such an experience, and so I won't. Only to say as the journey of recovery and healing continue to amaze me so do all its individual parts. For those out there that wish I would celebrate the small wins, this one is for you. I even took a pic to celebrate - you can actually see two ab muscles tightened as if becoming a six pack. Soon enough. I guess the 250 sit ups a day I did whilst my exercise marathon for months is paying some dividends. Though no guarantee I will post that pic.
My legs continue to feel stronger each day. Each morning they are stronger - which makes morning stretches a bit harder. But one cannot walk without tension in your leg muscles. All part of the recovery, and fully expected; as are most changes in the weekly puzzle. Some weeks are easier to figure than normal. The other night after coming home late from a Phillies game with a friend, that went 14 innings, fireworks after, and tacos - at 2am - decided to do my exercises (yes, one of those who cannot go to sleep unless get things done that needed doing) and my legs felt like increased another small level. I am going to say that presently my legs are 45-50% recovered. And for body, 76%.
On that note I am going to say thank you to all those who support me in every way,be it financially, emotionally, spiritually, physically - for without your support I would be be able to have the means to get this far, and walk again.
Link to video to share:
http://vimeo.com/82652207
Thank you, Steven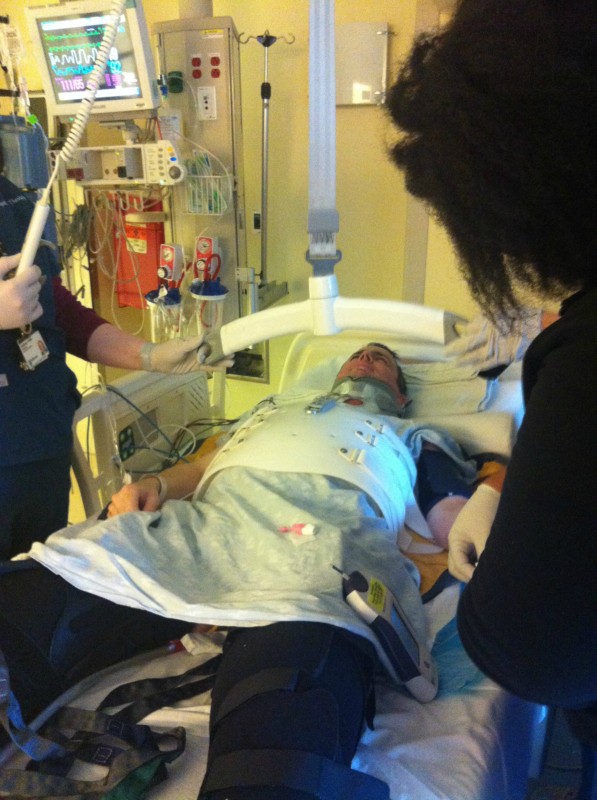 After enjoying a night out with friends in Philadelphia , Christmas week 2011, I hailed a taxi to go home. That was my last recollection before suffering an attack where I was left for dead in a city alley. Many facts are unknown but investigators determined that I was most likely struck across the back with a heavy, blunt piece of metal three different times blindly from behind, causing various injuries to my body and spinal cord. Soon after I was found on train tracks with further severe injuries from the fall and damage from the train hitting me. The police investigated but were unable to find the attacker(s) or any other information as to the accident.
Everyone always hears of tragic accidents but no one ever expects they will be the victim. The reality that I was a victim became known to me as I drifted in and out of consciousness in the trauma unit with doctors over my body , tubes and wires, and a priest at my side. It did not become clear what had happened until the priest spoke with me, and I realized I could not move anything below shoulders from paralysis. Emergency surgery awaited me as I was facing the rest of my life in a wheelchair with a 10% chance of recovery to walk. I knew this would be the greatest fight of my life.
I spent 6 grueling months in Trauma, ICU, step-down units, and at a rehabilitation hospital - filled with struggle, frustration, anger, support, love, and the thought of never walking again. I was released home and it is then that I realized that without the help of full time nurses and doctors at my side my real fight would begin. My first weekend home was both sweet and bitter, I knew it was going to be incredibly tough and take every ounce of my mental, physical and spiritual strength to get through this injury. But I would beat it.
These physical, psychological, and emotional elements in and of themselves are daunting, scary, and overwhelming; but they are only part of the battle. The other critical part is the cost of care to treat my injury and recovery. The hospital and rehabilitation costs were just the beginning of a long, arduous process of dealing with insurance to cover and continue to pay for therapy that is essential to my walking again. It is estimated that the cost of the first year's care to treat a Quad spinal injury at one million dollars, $1,000,000. Subsequent years can cost on average $175,000.
Five days a week I am in Physical Therapy, both at an out-patient facility and home. My schedule is relentlessly tough and I give no breaks to myself no matter how much pain I am in or how easy it is to skip my exercises, weights, standing frame, stimulation bike, stretching, or other treatments.
Now, 28 months since my injury, 21 months into therapy, I am able to move both my legs on my own (right stronger at present - but left will catch up), proving to myself and to the amazement of doctors that a full recovery is possible with the right support, love, and hard work. To date I have worked relentlessly to recover 75% of what the accident took away. 
Until now I have relied on insurance and immediate family for help. I have hit many of the maximum limits with insurance. The personal funds I had available to pay these costs have been depleted. I am humbly asking for your generous donation to help with medical and related expenses such as: continued medical treatment, aqua rehab, exercise equipment, home healthcare, and hospital and doctors fees. Your donation, no matter how big or small, will be greatly appreciated to defray these costs. My goal is to raise $40,000, biggest components are a stimulation bike which costs $16,800, and to pay for further Locomotor Training (see video w treadmill) sessions which cost $400/hour 3 times a week.
Today I am a changed man physically, mentally and spiritually. This accident has been the greatest gift in disguise, replete with lessons on life that forever have made me a better person. With your help I also will become a changed man. With your donations, my guts and determination, the support and love of family and friends, and through prayer, I will walk again.
Each week I will provide update(s) on my recovery and what changes have occurred as a result of your donations - until I post a picture of myself completing a 5K race. Thank you!!!
VIDEOS of my recovery
:
http://vimeo.com/82652207
http://www.youtube.com/user/SJQTherapyRecovery
You have the option to make your donation anonymous to the public. Administrator of account can see your donation however.
All donations are tax deductible.