So we are coming up on the 6 month anniversary of the Boston Marathon event. So much has happens in such a short amount of time. Some days it seems like the time has flown by and others like it has been going on forever.

We've been being asked a lot of questions in the last few days, due to the upcoming "anniversary", so I thought I'd send out an update to let everyone know how we are doing.

Physically we are doing so much better. Krystara has been working full time at her co-op position at MIT Lincoln Labs in Lexington and loving every moment. She still has a lingering issue with a nerve in her right foot flaring up and has to, on occasion, don the boot for short periods. But all in all she was very lucky to have been spared more serious physical injury.

I, Karen, am doing quite well too. I am happy to announce that the bone and tendon injuries have healed nicely though I am left with weaken ankle bones and muscles. I am in braces that are amazingly supportive and am using the cane solely for balance in long distances. I still have diminished feeling in my right foot and lower leg and may not get that back, but it does not prevent walking so I too am blessed.

Ron's leg graft is healing beautifully although he has had some recent changes that will have him back to the doctor for additional treatment. With the muscle loss and damage to the veins, nerves, tendons and ligaments he still has a lot of work ahead to strengthening his leg, but hopefully it will continue to improve. He too is walking well and using his cane sparingly.

After it all, we are grateful to have come away as well as we have.

Mentally and emotionally our healing is taking a bit more time. It's hard to explain what happens to a person who has gone through a trauma. And for every person who experiences the same event, the emotional fall out is different. So while trying to cope with your own emotions: sadness, fear, confusion and anger, you are trying to support and understand someone else's emotions of sadness, fear, confusion and anger. It's a complicated process. There are losses that go beyond the physical. Losses that can't be recovered. Loss of piece of mind, of the joy of ignorance, of the simple carefree joy of living with the belief that ugliness won't touch our lives.

Then there is the pressure. When you have the self imposed belief that you have to appear "Boston Strong." And some days you are, completely Boston Strong. But some days you're not. But because every time you show yourself out there, pulling through with grace and strength, you have people telling you what an inspiration you are and how proud they are of you, and you feel like you never want to let them down. And you feel like no matter what, you have to present that Boston Strong face. And it's nothing anyone MAKES you do and you know they would all understand if you told them you were having a hard time and that you just want to hide in your house and not face the day. Of course they'll understand, you were just in a bombing. But you don't show that. And the longer you don't, the harder it becomes to tell the truth of it...you're not ok. You're suffering.

For many months, the emotional healing was put on the back burner because we were trying to deal with the physical issues. We are all now in therapy. And even though you just saw my rant above, we are healing. We are talking about things, with our therapists and with each other. And that has been lethargic. And although we still have work to do, we are better.

We are filling our days with activity and joy and laughter and we are healing. And we know we owe so much to so many people. Too many people than we could ever begin to thank properly. So we are posting this update in hopes that our work, and our success and our happy lives will be evidence of our sincere gratitude.

Thank you all for your prayers and kind words and emotional and mental hugs. They were so needed and so appreciated.


Sincerely,
The Brassard Family

Ron, Karen and Krystara Brassard were among those injured in the Boston Marathon bombing this past Patriot's day. You have all seen their countless photos and videos and we are asking for your help and support as they face a long recovery process from their physical and emotional pain resulting from this tragic event. Krystara was treated for shrapnel wounds, burns and an ankle injury and was released from the hospital on crutches. Karen had shrapnel wounds on one leg and one ankle, requiring two surgeries to repair. She was released from the hospital on Thursday, but is still unable to walk without assistance. Ron suffered an arterial bleed in his left leg, causing considerable muscle and nerve damage. Ron is scheduled for his third surgery on Friday and there is no timetable for his release.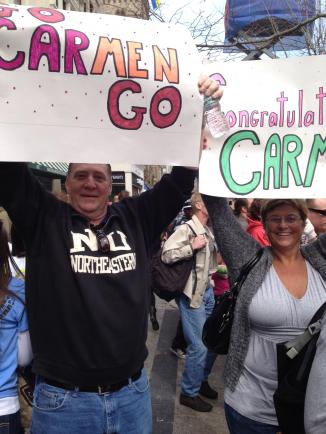 Ron and Karen Brassard pictured here cheering on the finishers prior to the vicious terror attack


The Brassards were enjoying a beautiful day at a historic event and awaiting their friend Carmen at the finish line. As it turned out, it will be the darkest day in their lives and one which will never be forgotten. Their road to recovery will be long and painful.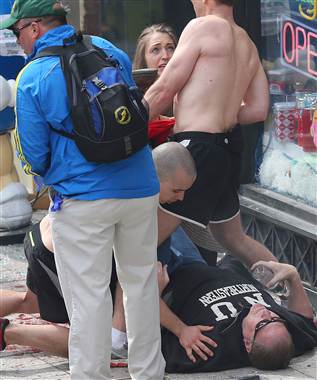 Heart wrenching photo of Krystara Brassard receiving care as her father laid severely wounded beneath her


It is unimaginable what took place in Boston. Their lives will never be the same and we are asking you for your support!!!

Heroes who risked their own lives to save an amazing family


Thank you in advance for your continued support, well wishes and prayers. May God bless them, the victims and the city of Boston and the many volunteers who helped save countless lives.


Karen Brassard being wheeled from the scene of the attack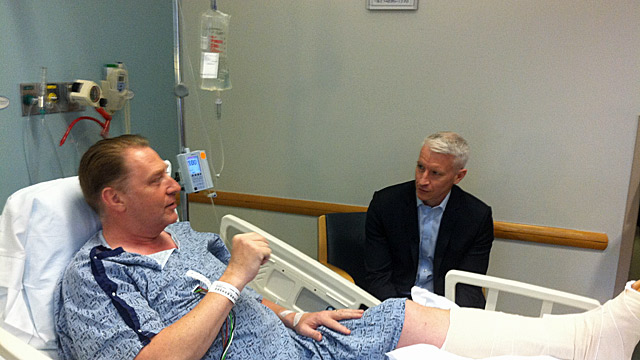 Ron Speaks with Anderson Cooper

More on this heroic family

http://www.wmur.com/news/nh-news/Family-recovers-in-hospital-after-Boston-bombing/-/9857858/19810866/-/rhvkbjz/-/index.html ----- WMUR Article / Interview

http://www.nhpr.org/post/nh-family-injured-marathon-blasts-recovering-know-lives-are-changed ----- NHPR Article

http://www.nydailynews.com/news/national/n-h-family-describes-chaos-boston-marathon-article-1.1319472 ----- New York Post