Post 359 "Failure Is Not An Option"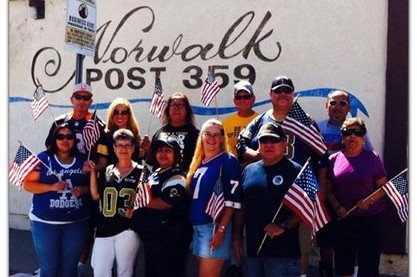 Time is closing in. There is only about 2 weeks left to raise the rest of the funds needed to save this American Legion Post. Please share our efforts with your friends and family. Every little bit helps and is appreciated by those veterans and their familys who gave so much in their fight for our country.
We have 90 days to raise $45,000.00 or we lose our home.  The Norwalk, California, American Legion is the last standing veterans organization in the city. It is a resource for veterans, a gathering place of friends, family and patriotic minded individuals who have honorably and proudly served this country during times of war and conflict. Our programs support soldiers both stateside and overseas, we support their families, we provide college scholarships, and we contribute the majority of our funds to programs and services that benefits veterans, soldiers and their families all over the world. Last week we were notified that the heir of a recently deceased member (and creditor) is calling in on a personal loan for the full amount of the debt. This is more than 2 years early and without notice. In 90 days the law allows the heir to foreclose on our building and sell it at auction.  Please help us raise the funds we need to continue our positive works in the community and for the soldiers and families that we assist every day. Thank you.
What is GoFundMe?

Fundraising made easy >>
CONTACT
LINK
POSTER
REPORT
Outback Steakhouse Fundraiser
7 months ago (Offline Donation)
Profits from the Outback Steakhouse fundraiser were $2025 after all expenses. Great job!!!! Thanks to everyone who sold tickets and help/helped serving.
Various
7 months ago (Offline Donation)
Thank you to Ed Lane, Robert Hoskins Jr and Frank Magana for their generous donations and the cash donation from the post itself from the 50/50 drawing.
Romo family Bus Trip
7 months ago
Thanks to all the great folks on Nancy Romo's family bus trip to Buffalo Bills. We were able to have fun and collect funds for the American Legion post 359
Betty Jean Degarmo Trust
8 months ago (Offline Donation)
This donation is the $5000 match for funds raised in July.
Anonymous
8 months ago (Offline Donation)
Alan Chinkin
8 months ago (Offline Donation)
Jerry LaLoli Estate
8 months ago (Offline Donation)