Real Salt Lake TIFO efforts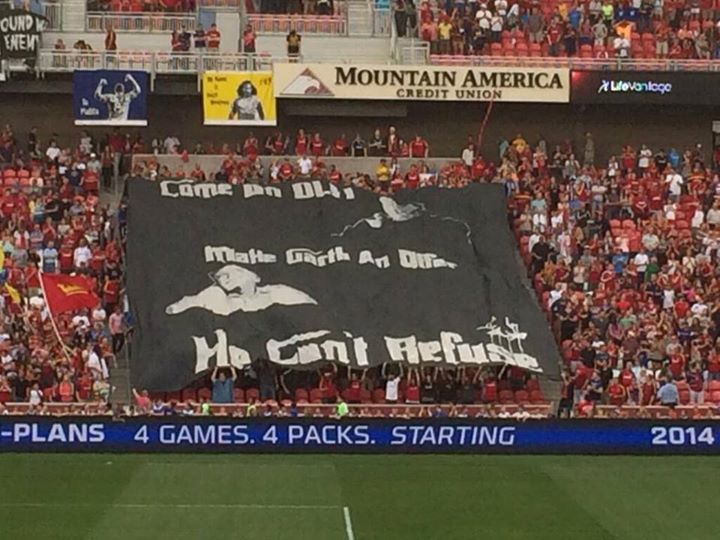 This is amazing. Thank you all so much for giving your hard earned dollars, American of Canadian.
Do you like RSL? Do you like TIFO at the RSL games? Well, those of us that have been involved in creating some of the bigger banners in the stadium have a small problem. This weekend our equipment was stolen and we'd really like to get it replaced so we can get some amazing stuff churned out for the Portland game. 

We all know how much they like our last one.......

Help us replace our equipment so that we can make you guys laugh smile and continue to help make the RioT a place we can all be proud of. 


What was stolen? 
-LCD projector (about $750.00)
-Painting equipment ($200.00 ish) 
           -Rollers
           -Brushes
           -drop cloths
-Our souls (priceless, we know.)
We had planned on tracing and painting this weekend but will be unable to do so because some people just plain suck.

Anything you can kick in will really help. There are 20,000 people at the stadium constantly. Spread this around and help get peoples attention. Together we can do this. 

RSLTID
What is GoFundMe?

Fundraising made easy >>
CONTACT
LINK
POSTER
REPORT
Chris Stein
8 months ago (Monthly Donation)
Chris Stein
9 months ago (Monthly Donation)
Jordan Washburn
9 months ago
You guys are amazing. Keep up the hard work.
Nick Barker
10 months ago
RSLTID-- st george
Keith Anderson
10 months ago
Love what you guys do. I sit in Section 36, and can't see the TIFOs well, but still love the atmosphere they bring to the RIOT. #RSLTID
Ashley Kirkpatrick
10 months ago
We love you RT! - Chris and Ashley
Kelsey Price
10 months ago
Love my RSLFamBam all the way from CA -KPKelsey