#nevergiveup #Cancer #‎help‬ ‪#‎support‬ ‪#‎charity‬ ‪#‎donation‬ ‪#‎cancerfund‬ ‪#‎stomachcancer‬ ‪#‎fightcancer‬ ‪#‎cancerbenefit‬ ‪#‎donate‬
http://www.gofundme.com/9gdfqg
UPDATE for January 13-18, 2015 – Wow six (6) days since I updated everyone; so sorry…. Hello; How is everyone doing? It's been a really rough week here; once David finished the 5-FU Chemo pump on Wednesday that night the diarrhea & vomiting came on like a vengeance. I worried every day about how bad he looked & felt; but I told David I would do my best to take care of him & keep him out of the hospital. Last night was probably the worst diarrhea & vomiting out of control but so far so good. Today he has been recording his belly noises on his phone. I wish I could play for you what we hear all the time. His belly roars so load you can hear it across the room. Sounds like the worst case of air in pipes ever, at times it actually sounds like a lion roaring. Boy his system is really pissed off at the toxins from chemo.
I'm attaching a new photo of David that I just took. As sick as he is, he looks so good. Even yesterday as sick as he was he allowed me to wash his hair over the kitchen sink, we had some rushing moments back & forth to the bathroom & over the toilet but he managed to make it through. So two sessions of chemo down we get this week and a half to get him strong for the last session of chemo. I am doing really well with doing the home IV Hydration myself. Only messed up once, I forgot to push the IV Saline flush before the Heparin. But I have it down perfect now. I follow the SASH method. Saline flush, Administration of meds or fluids, then Saline flush again and end off with Heparin IV flush. Really who would have thought I would be doing nursing. I really should consider getting a nursing degree LOL.
Sorry I haven't had time to follow up with Marti about the Pasta event. I actually should ask for some volunteers to assist her. I'm just not so sure I'm going to be able to help as much as last time. Also I'm still waiting to hear from Chris for the dates to schedule second annual car show at Moroso in Guilford. I'm kind of consumed with taking care of David & trying to figure out how to make some money. Much love we sent to all of you for keeping David in your thoughts and prayers…
We still desperately need support for David on his Journey in Healing. Any and all donations go directly to "Wings of Hope for David Gagnon" to support him and get the things he needs to survive right now. Please consider supporting us through buying a Large or X-Large shirt ($20 ea), silicone bracelets ($2 ea), decals ($5 ea) and butterfly lollipops from Canada ($2 ea) as we still have some available for you to purchase as a donation as well. Many thanks, to help us in "Fighting Cancer Every Step of the Way!!!"
Beside the GoFundMe site; Donations & Cards can be mailed to me:
Dawn Siedlarz-Aponte
7-B Stonegate Circle
Branford, CT 06405
-- If you send a check, please make payable to: "Dawn Siedlarz-Aponte"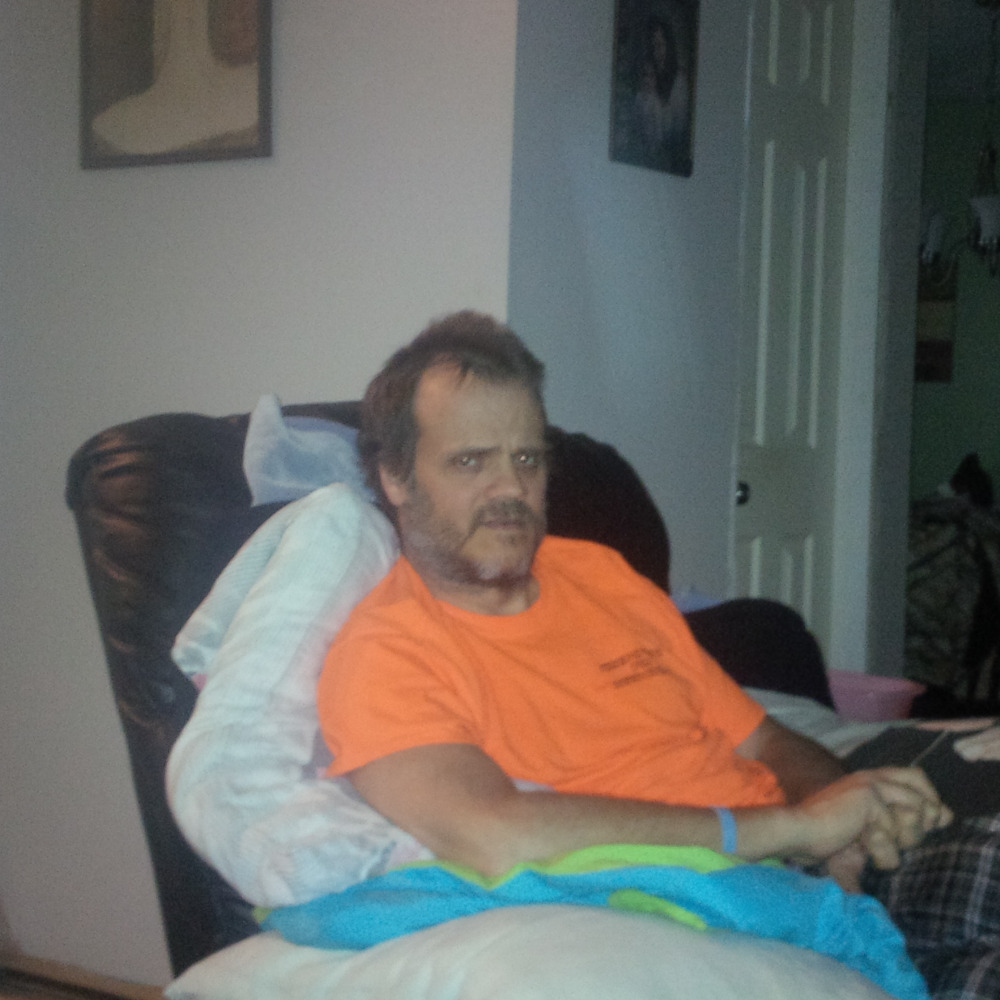 "Wings of Hope for David Gagnon"
Help us raise money to support David in his cancer survival fight!
David was diagnosed w/Stage III Gastric Cancer; Esophageal & Stomach Cancer called, "Mucinous Adenocarcinoma", April 9, 2014. His tumor was over 8cm located in the Esophagus & Stomach. He is being treated at Smilow Cancer Center, Yale New Haven Hospital both in the Guilford & New Haven locations. David's 1st Chemo started May 12, 2014 for 9 weeks. David had a major & very difficult 11 hr surgery Sept 9, 2014 to to remove 3/4 of his esophagus & total removal of his stomach (gastrectomy).
David was in the ICU from Sept 9 to Oct 9, 2014 with many issues & complications from the surgery & chest tubes. He also wound up with pneumonia & a collapsed lung. David had another surgery on Sept 16, 2014 to repair his lung & was intubated (living on a ventilator for 18 days) from Sept 12 to Sept 29, 2014. On Oct 10, 2014 he was moved to the Smilow Building at Yale & had to undergo another surgery to install a stent in his esophagus to assist in repairing the esophageal leak into his chest. David stayed in Smilow at Yale until October 23, 2014 then moved to Gaylord Rehabilitation Center in Wallingford. David finally came home Nov 12, 2014. He had Surgery to remove the esophageal stent Dec 4, 2014 & went very well. As of Dec 15, David can now eat a clear liquid diet by mouth. The last 9 wks of Chemo start Dec 19, 2014.
We created this group to support David in this time of need & to keep him positive & moving forward to heal. For all of those who know David, he is always someone you can count on. From his normal work related engine builds to tech calls, helping out at the race track or off to help build a friends' shed or even helping out a neighbor stuck in the snow, you can always count on David to assist you.
David didn't attend any fancy schools or even have the opportunity to finish High School; instead when his father passed from a heart attack at 41 yrs, David took the road to get a job to support his Mother & brother. Things were not easy especially when his brother (Daniel) was diagnosed with Cancer. David took the time to do what any brother would do & take care of whatever needed to be done for Daniel. After Daniel's passing he continued to support & assists his Mother with everything she needs.
Let's all get together and heartlessly support David in his fight with Cancer as he has done for others. Wings of Hope for David Gagnon GoFundMe will assist with all of David's financial & medical needs, prescriptions, proteins drinks, feeding pumps, wheelchair, whatever is needed to get him back on track, healthy & working again Every bit helps. Many thanks for your support!
Fighting Cancer Every Step of the Way!!!
To donate, please make checks payable to:
"Dawn Siedlarz-Aponte"
Mail checks to:  Dawn Siedlarz-Aponte, 7-B Stonegate Circle, Branford, CT 06405
Thank you in advance for your generosity and support.
https://www.facebook.com/groups/540094806110182/