Love for James and Justin!
Thank you so much everybody for the money and support...it really has came in handy and helped us so much! We can't express how grateful we are to have such wonderful support from all of you!

Justin and James are doing well and hope to be leaving tge hospital within a day or two! They had had some ups and downs but are improving everyday. My brother is a hero for saving my father's life and we're grateful to have our father here with us a little longer!

Thank you so much,
Megan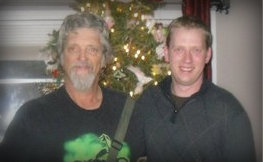 James and Justin Adcock will soon be embarking on a life changing journey! James is a family man and Christian first, and an avid motorcycling enthusiast second.  Years ago James was diagnosed with Hepatitis C. Due to making several lifestyle changes he has been able to go without needing a transplant until now. His son Justin, who is a Victoria, Tx fireman, is going to donate a portion of his liver to save his father's life. Justin is an active runner and loves to play volleyball on his free time. They will both be needing family support and aftercare. The money raised will be helping with medical expenses along with costs of travel for James, Justin, and the rest of the Adcock family. They will be taken care of by Helen Adcock (wife of James/mother of Justin), Corey Adcock (Son of James/brother of Justin), and Megan Groll (daughter of James/Sister of Justin). The surgery will be taking place on May 20th, 2014 at the Mayo Clinic in Rochester, Minnesota. Thank you for all your help and support in advance!
What is GoFundMe?

Fundraising made easy >>
CONTACT
LINK
POSTER
REPORT
William Sippel
9 months ago
Darla Cabeldue
9 months ago
Alyssa Valdez
10 months ago
Wow Justin, that is amazing!
Anabel Ugalde
10 months ago
This is an awesome thing you're doing Justin! I hope you both get well soon!
Rusty Rogers
10 months ago
Sayra Martinka
10 months ago
Best of Luck! Prayers for a speedy recovery for both of you!
Jennifer Charbula
10 months ago
Good luck to you both....and wishing you a fast recovery!
Erik Olsovsky
10 months ago