Letter from Lisa

We wanted to thank everyone who brought and made us dinner these past few weeks. It is pretty amazing how kind and thoughtful people are. I can't tell you how much we appreciate having a meal ready for us. It's pretty hard making any decisions . As easy as what to eat. This takes some of the stress off . Thank you everyone . I know how special this is and I will pay your kindness forward!

Love
Lisa and Jose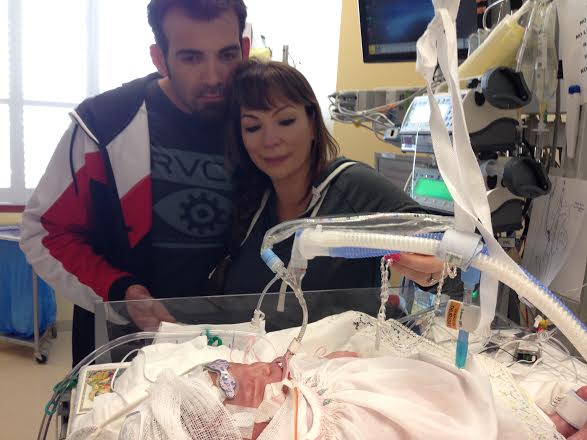 Dearest Sofia,
You are simply beautiful. You have eyes like your beautiful mother and a cute button nose like your sweet father.  Your beauty is undeniable and your strength has been incredible.  The day Lisa found out she was pregnant was the happiest day of her and your daddy's life.  It was incredible watching Lisa bond with you as her tummy grew.  Who knew you could be so loved by so many even though we had never met you!  She did ultra sound after ultra sound just trying to get a glimpse of your beauty.  Through these scans they discovered you had transposition of the great arteries.  Lisa and Jose researched for hours on end educating themselves on what was to come.  They had doctors appointments once a week at Stanford and through it all stayed confident.  On Tuesday March 11, 2014 you finally decided to make your grand entrance into the world.  It was such an amazing and exciting day for everyone who loves you.  From the beginning your journey has been full of challenges.  More complications have come to light than what we were prepared for. You've been through so much in your short little life, but you have shown strength and perserverance. Through it all your mom and dad have remained pillars of strength as well.
Please join us in the fight to support Sofia and her amazing parents Jose and Lisa Diaz. Baby Sofia was put on a machine that helps support her heart and lungs.  It pumps her blood out, filters it and pumps blood back into her body.  Through the filtration process it adds blood thinners into her blood stream.  Baby Sofia is not strong enough to be without this machine, but in turn the machine is making her sick.  It's causing problems with her other organs and bleeding in her brain. Through it all we remain positive and hopeful that she will continue to get stronger day by day, no longer needing to be on this machine. 
Please help alleviate some of the stress of the medical bills.  Any and all donations are greatly apppreciated.  Prayers for baby Sofia! <3