Wow! Thanks so much for all the support, help and donations at our car wash on Saturday!

Specifically, we want to thank Erin at The Las Vegas Weekly for the great article she wrote to help us get the word out! It not only worked, but it's still working! Thanks again, Erin!

We'd also like to thank another Erin, this one from the Neon Museum for all her help and advice on this project in general, and for helping spread the word, too!

We couldn't have pulled it off without all of our volunteer car washers and sign wavers! These guys and gals worked hard and really did earn our undying love! Thanks so much to Chris, Trisa, Terrenc, Claudia, Gary, George, Jason and Tiffany! You guys rock!!

Finally, we'd like to thank our many customers, from our loyal fan base to all of the new faces we've seen over the last few days! We couldn't do any of this without you, and we appreciate your support over the last couple months! And to all of you who are new to Davy's, welcome aboard! It's been great meeting you and we can't wait to get to know you better!

Saturday we raised $451 in car washes and cash donations plus $78 in Jello Shots and Test Tube Shots, bringing us to almost 45% of our goal! We're thankful and humbled by all of the support we've received so far!

Thank you all so much!!!

~~Cindy, Mark, Dave, Chris, Chris, Marion, Rob, Mark, Lindsey and Alex

Hello!  Thanks for taking the time to visit our GoFundMe site!
As the video explains, we (the management and staff of Davy's Locker) are doing everything we can to save "Davy," the affectionatly named iconic neon sign that has graced the corner of Maryland Parkway and Desert Inn Road in Las Vegas for the last 46 years.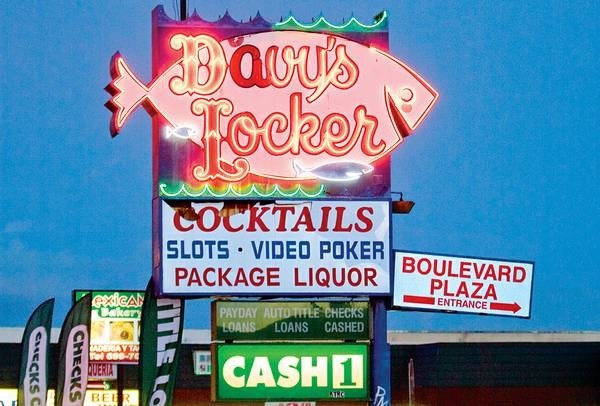 Davy's Locker was originally opened by Hall of Fame boxing referee, Davey Pearl, in 1968.  The bar has changed hands numerous times over the years, but the classic neon sign has been a constant piece of Vegas history in the neighborhood.
Unfortunately, the neon and wiring have deteriorated to the point that Davy is barely lit at all.  
The property owners would prefer to take the sign down, and replace it with a generic shopping center sign.  We, the bar staff, think that it's sad that so many of Las Vegas's classic neon's have been replaced over the years.  Since Davy is one of the few that are left, we decided to do what we can to save him.
We need to raise $6100, which will be enough to fix the sign and provide for the first year of a maintenance agreement.  We obtained several estimates from local companies, and this was the best bid we received.  All of the money we raise will go directly to saving Davy and ensuring that he lights up the eastside for years to come.
Besides this GoFundMe site, we are also planning fundraisers to be held at the bar over the next several weeks. When we have specifics on the dates and times of the fundraisers we will post them here and on our website, 
www.davyslockerlv.com
. Be sure to stop by!  You can also donate cash directly at the bar, if you're in the neighborhood!  
We appreciate any amount you can give to help save Davy, $2 or $200, everything helps!  Thanks, very much, in advance!  
Sincerely, 
Davy's staff: Cindy, Mark, Dave, Chris, Christopher, Lisa and Marion