The Blessings of My Disease (film)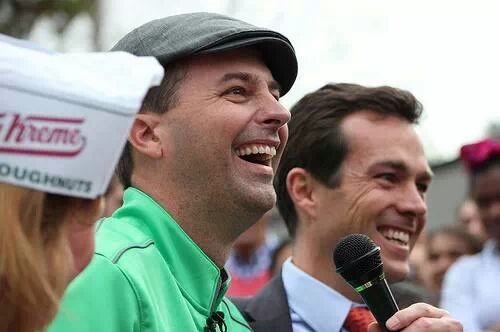 I want to thank you all for contributing to this project. It looks like we will not meet the funding goal. However we have shot some film, and are deciding what the next steps are. My hope is that I can provide each of you with a special video, although it will not be the full length documentary.

I am also working on a book (which does not require funding!). If I can get that done I want to provide each of you a copy.

Thank you again. Enjoy this day!

C
My name is Chris Rosati. I am a father, husband and friend. I also have ALS, Lou Gehrig's disease. While the disease is destroying my body, the journey is fueling my soul.

ALS is devastating. But there are some blessings. I get to be amazed by the good in people every day. I get to experience an overwhelming and never ending wave of love. I hardly ever worry, and never about something trivial. I now see beauty in so many simple things. I no longer fear failure... or much of anything else. I know something you don't know - something wonderful. And I know how blessed I am.

Here is CBS News coverage of this project:
http://www.cbsnews.com/news/nc-man-finds-silver-lining-after-als-diagnosis/

The Blessings of My Disease is a video project featuring inspiring persons with ALS (PALS). But it is not just for those suffering with the disease. The PALS I will interview have something to teach everyone - healthy and ill.

This Summer I will travel the country meeting and documenting conversations with some of the most amazing people you could ever hope to meet. The way they live their lives has forever changed and enriched the lives of those around them. I m betting they will do the same for you once you hear their stories.

Funds raised through this page and elsewhere will be used to cover videography fees (est 85%) and travel expenses (15%).

We will attempt to have media coverage at every stop. We will also share the interviews with the ALS Association and are asking them for help with funding. The videos will be shared on YouTube, and we will make every effort to promote them through social media, traditional media, film festivals, etc. And, of course, every donor to this page will be notified of every new video posted.

I intend to help change the world in the time i have left. I invite you to join me on the journey. Thank you for supporting this project.

Chris Rosati
What is GoFundMe?

Fundraising made easy >>
CONTACT
LINK
POSTER
REPORT
patricia drow
1 month ago
I so look forward to your interviews!!
Stephanie Weber
1 month ago
Tamara Lackey
2 months ago
Looking forward to the film!
David Majeroni
3 months ago
I loved watching the CBS spot. Thank you for sharing your smile with us.
Kenneth jones
4 months ago
Karen and Kyle Collins
4 months ago
Continue to inspire throughout the journey!