Help Paige and her family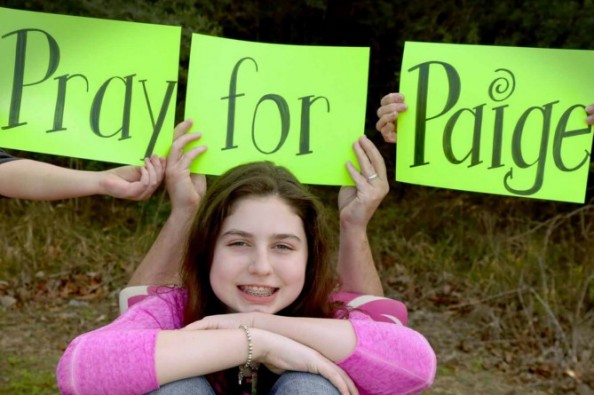 August 2014. We are now almost eight months in on this journey that is far from over. Paige is in remission--her body shows no sign of cancer cells in her bone marrow, and the mass on her chest is no more. Praise the Lord! She is still receiving intense IV chemotherapy treatments and is looking forward to a few months down the road, when she will enter the maintenance phase and return to school as she continues about two years of less intense treatment.

My daughter is an inspiration to everyone she encounters along the way. Blood transfusions, sickness from chemo, losing her hair, unplanned hospital stays, and even a fractured leg haven't kept her down. She exhibits strength and maturity well beyond her now 14 years and shares what God has done in her life with anyone who will listen.

God is bigger than any disease, any fear, and any struggles we may face. He continues to work in our lives and is giving Paige an amazing testimony in the process. Everything will come together for good, and He will receive all the glory!
Please help with anything you can. Paige LeJeune was taken to the emergency room with what was thought to be complications from pneumonia. An initial diagnosis of Lymphoma was changed to T-Cell Leukemia. Her treatment will take at least 2 1/2 years, including chemotherapy, radiation treatments, and a lifetime of maintenance after.  Please help her family by giving them one less thing to worry about. Anything you can give will help a great deal.
What is GoFundMe?

Fundraising made easy >>
CONTACT
LINK
POSTER
REPORT
Praying for Paige and her family. You will beat this. Love to all, Sandra
Cassandra Neal
7 months ago
Thanks for my bracelets! We're all praying for you Paige!
Ruth, run strong and steady and enjoy crossing the finish line. We will be cheering you on from Texas.
Carla Cothran
7 months ago
Proud of you Ruth! You are an inspiration! I will be cheering you on!
Janice Perrin
7 months ago
Marathon Supporter
Zinnia Lerma
7 months ago
Paige and Ruth, you both are amazing strong ladies and I will pray for God to bless your body, soul and spirit.