Hoffman Redhawks Jr Midget football team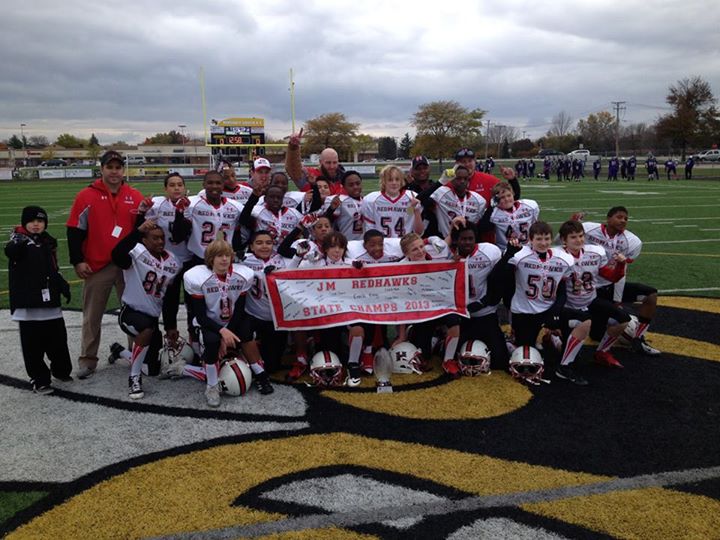 I want to give all of you an update on our trip to Florida and our quest for a national Championship. Many of you already know but our first game VS an undefeated Loveland Colorado team we won 28-0 to advance to the semi finals against another undefeated team out of Arizona, The Pride. We overcame two deficits in the game to win 15-12 and had the experience of playing for a national championship live on ESPN 3 Friday. We played Jenson Beach Florida who again where undefeated and where up at halftime 8-6 and tied in the fourth but ended up loosing to a team that took 2 last year and won it the year before. Our heads are held high! Thank you all for everything you did for this team we had a ride of a lifetime. I hope you are as proud to be a part of it as I was!!
Coach Storm
As you may know, our 7th and 8th grade youth football team has had a special year, finishing our season undefeated at 13-0 beating Missouri, Michigan and Ohio to make it to nationals. We are the first team to make it to Disney from Hoffman Estates in 7 years and our trip is now in jeopardy due to funding. Many of our players are from lower income households, several with single parents that just simply can't afford it. We have made 8 hour road trips to play two weeks in a row and it has strapped even our most financially secure families, with rental van payments, hotel, gas, food etc. These boys worked their hearts out and have incredible determination, we will do whatever it takes to attain our goal so all of our kids can go to Disney and play for a national championship on ESPN. We need to be in Florida this Friday to weigh in and have yet to make reservations. Please donate what you can and share with all of your friends to help our team. Every dime will be used for these fine young men who deserve to be there. Please watch ESPN 3 Tuesday at 7 to see who we will be playing. You can also see what your contribution helped produce when we play Saturday December 7 on ESPN 3. Thank you for your consideration and assistance.
What is GoFundMe?

Fundraising made easy >>
CONTACT
LINK
POSTER
REPORT
John Sardina
15 months ago
Holly Fraccaro
15 months ago
Michael Villarreal
15 months ago
Good luck, and enjoy your time at Disney World! If you collect enough money, maybe you could do a team dinner there. A good non-expensive meal can be found at Trail's End Buffet for dinner. Now go and bring back a "WIN"!
Storm...congrats and good luck in Florida!!! GO REDHAWKS!!!
Congrats! Go REDHAWKS!!!!
Andy Ferbrache
15 months ago
Good Luck Stormy