Kristina Chesterman Clinic, Nigeria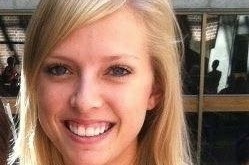 The Kristina Chesterman Memorial Clinic Team wants to thank EVERYONE who has donated to help build Kristina's clinic in Ozu Abam, Nigeria! The clinic fund has now reached over 60% of our goal and we are very close to breaking ground on this important project. Very soon the residents of the Ozu Abam region in Nigeria will be receiving health care which will be provided in the honor of a very special nursing student. Many of those of us who knew her have been honored with the opportunity to bring some of her dreams to reality, however it is through the generosity of all of those who have been touched by her story that Kristina's clinic will be built. We are grateful to each and every person who has supported the development of the Kristina Chesterman Memorial Clinic!
On September 24, 2013, 21 year old Kristina Chesterman died from injuries sustained when she was hit by a drunk driver as she rode her bike home from the library at California State University, Chico. As a nursing student, Kristina had chosen a career in health care in order to assist those living in underdeveloped nations. Kristina was well known for her love of her family, her talent for making friends and her strong ability to influence others in a positive way. An inspirational person, Kristina consistently influenced the lives of those around her, encouraging them to be the best they could be. In an attempt to honor her memory and carry on her work, a group of her classmates have partnered with a team of California based health care professionals in order to build a clinic in South Eastern Nigeria. The Kristina Chesterman Memorial Clinic will be a sister clinic to the Upon This Rock Medical Center which was built in Ozu Abam, Abia State, Nigeria in 2012 by James Umekwe and his organization Clarrion Call. The goal of the new clinic is to provide health care for women and children of the area as well as to provide care and education for those who suffer from diabetes. The aim of the project is to honor the memory of a very special person through the provision of excellent care for Nigerian citizens who are in need of medical assistance.We thank you for your support!
What is GoFundMe?

Fundraising made easy >>
CONTACT
LINK
POSTER
REPORT
JOSE & NANCY LANDAZURI
7 days ago
We've never met but you are an inspiration to everyone who hears about you! YOU make me want to be a better person! We love you!
Kirstin McAuley
1 month ago
We can't wait to hear about this beautiful clinic be built!
Linda Vierkant
1 month ago
This donation is made in honor of Rudi Sachenbacher of DragonFire Balloon, and his amazing crew. In appreciation of his generosity for donating the ride to fulfill an item on Kristina's bucket list.
Amazing cause; best of luck from a medical student in Australia
MICHAEL EMERSON
1 month ago
Danielle Hurlburt
1 month ago