We are still hard at work trying to raise funds and items for our community. We have more and more people reaching out to us say that they are in need. Our goal is to be able to feed 50 families who are in need, but now we have a growing list which is up to a additional 37+ families who are in need. Please help us feed our Community! We also have a Facebook page where you can find more information!
https://www.facebook.com/planting.seeds.50
We also want to send a very special Thank you to Northwest Spay & Neuter Center for your donation this 2013 Thanksgiving Season!!! Please visit their website below to see all of their offers!
www.nwspayneuter.org
No matter how big or small the donation, it will make a difference to these families.
Thank You again!
"The seeds you sow today will be the harvest you reap tomorrow"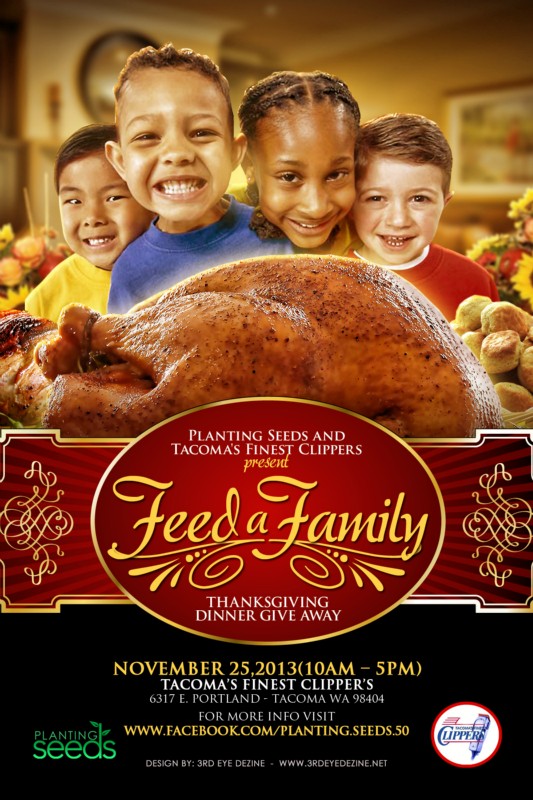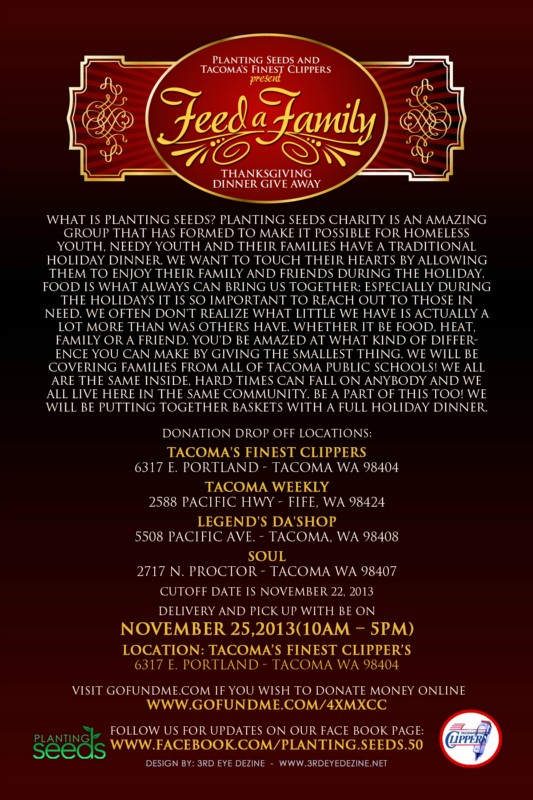 Planting Seeds Charity
Our Mission Statement is:
"At Planting Seeds we believe in planting and sowing seeds into the youth of our community. Our focus is to build up our youth with knowledge so that they can and will do better, for they are not the generation of tomorrow but are our generation of today."
An amazing group has formed to make it possible for homeless youth, needy youth and their families have a traditional holiday dinner. We want to touch their hearts by allowing them to enjoy their family and friends during the holiday. Food is what always can bring us together, especially during the holidays it is so important to reach out to those in need. We often don't realize what little we have is actually a lot more than was others have. Whether is be food, heat, family or a friend. You'd be amazed at what kind of difference you can make by giving the smallest thing. We will be covering families from ALL of Tacoma Public Schools!! We all are the same inside, hard times can fall on anybody and we all live here in the same community. Be a part of this too! We will be putting together baskets with a full holiday dinner. Our goal this year is to feed 50 families! Please help us meet our goal by donating or dropping items at one of the follow locations.Drop of locations so far are:
Tacoma's Finest Clippers
6317 E. Portland
Tacoma WA 98404
Tacoma Weekly
2588 Pacific Hwy
Fife, WA 98424
Legend's Da'Shop
5508 Pacific Ave.
Tacoma, WA 98408
Soul
2717 N. Proctor
Tacoma WA 98407
Below are the items we wish to put in our 2013 baskets.
Meats
v Whole chickens
v Turkeys
v Hams
v Pot Roast
Sides
v 4 boxes of Mac and cheese
v 3 cans of Green beans
v 3 cans of whole corn
v 1 box of stuffing
v 2 packets of gravy mix
v 1can of cranberries
v 1 small bag of broccoli
v 1 bag of mixed fruit
v 1 bag of carrots
v 1bag of celery
v 1 5lb bag of potatoes
v 1 64oz bottle of juice (any kind)
v 1 bag of dinner rolls or 3 boxes of corn bread mix
v 1 dozen of eggs
v 2 sticks of butter
v 1 box of cake mix or pre-made dessert
v 2 packets of seasonings
Personal Items
v Dishwashing soap
v Hand soap
v Napkins or paper towels
v Body soap
v Shampoo
v Conditioner
v Toothbrushes
v Tooth Paste
Anything that you can do to help will be greatly appreciated!!On behalf of the Planting Seeds staff we Thank You in advance.
"The seeds you sow today will be the harvest you reap tomorrow."