comic Pam Matteson 4th cancer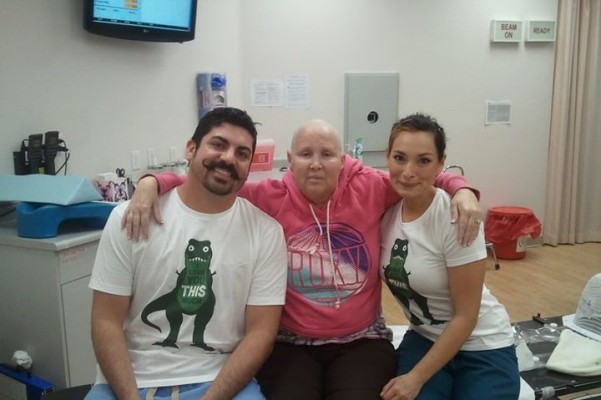 Pam Matteson's cancer has returned for the 4th time. 2nd in the brain and this time the cancer is rare. We could use some help with the medical expenses. Please help if you can
My wife Pam has been diagnosed with brain cancer after recovering 2 months ago with her second bout of cancer. She survived the first ovarian cancer bout in 2005 and was cancer free for 7 years then in Sept 2012 it came back. This time it was in fluid around her heart. They drained the fluid but found cancer cells floating in the fluid, so she underwent chemo for another 9 months. In August we were told she was clear again. she was asked to do a benefit for cancer in oregon on Sept 20 and she did it. On Sept 23 (her birthday) we had a family get together and celebrated. On Sept 30 she lost her motor responses and part of her speech. 5 days later we had a ct scan done and fount cancer in her brain. the bills are piling up and I lost my job due to so much time off taking care of pam. If you can help thank you. If you can't please pray for her.  Here we are in 2014 and it's back.  Brain cancer for the second time, a rare form that really isn't brain cancer it's ovarian cancer that traveled up to her brain.  That is why the cit and mri showed no signs for the last 8 months.  It's located behind the blood brain barrier and is not treatable by normal treatments.  She can't get radiation again because of the 20 brain radiations she had last year.  Most chemo will not pentitrate the brain barrier so we are going on an experimental treatment that will permeat the barrier and attach to the cancer in her brain.  She will be on this for 5 weeks and then another mri on her brain to see if this takes any effect, if not we have to find another treatment.  We've been to the Mayo institute and other doctors, they all gave Pam a short time (1 to 2 years maybe), this is the only doctor who offered a longer term.  There is treatment that is not available yet (not released by the FDA) that might be ready by next year, we hope.
What is GoFundMe?

Fundraising made easy >>
CONTACT
LINK
POSTER
REPORT
Midlothian HS Friends
2 months ago
you both are in our thoughts and prayers.
steven abrams
3 months ago
Remembering the good times when you were starting out at the comic strip. Wishing you all the best.
Fred Stoller
4 months ago
Thinking of you. -Fred
Mandy Rayeski
4 months ago
Greg Antoniono
4 months ago
I hope this helps.
Doug Wellman
4 months ago
Kelly Morrison
4 months ago
Wishing the best in your battle.