It's hard to believe that 2013 is coming to an end. If your year was anything like ours, it simply flies by too fast.

Before the Holidays are upon us, and we are consumed with the hustle and bustle of the holiday please consider making your final donation of the year to Ready Set Ride. They are a 501(c)3 non-profit organization all money raised is tax deductable, and also qualifies towards any company matching policies for donations.

Located in Plainfield Illinois, students as young as three years of age come from all over the Chicagoland area. It is the goal of Ready Set Ride to assist these children in achieving the highest quality of life possible through the use of horses and individualized activities focused on the needs of the student.

Following Professional Association of Therapeutic Horsemanship (PATH) guidelines, Ready Set Ride bases its program n developmental techniques utilizing the horse as a means of mobility for the children. Certified therapeutic riding instructors guide the students and closely monitor their needs and encourage consistent improvement. Therapy is conducted in the form of games on horseback which incorporates physical, speech, occupational, developmental and recreational therapy in one 45 minute session. It's like a Super Therapy for Super Kids!

Please consider supporting the barn.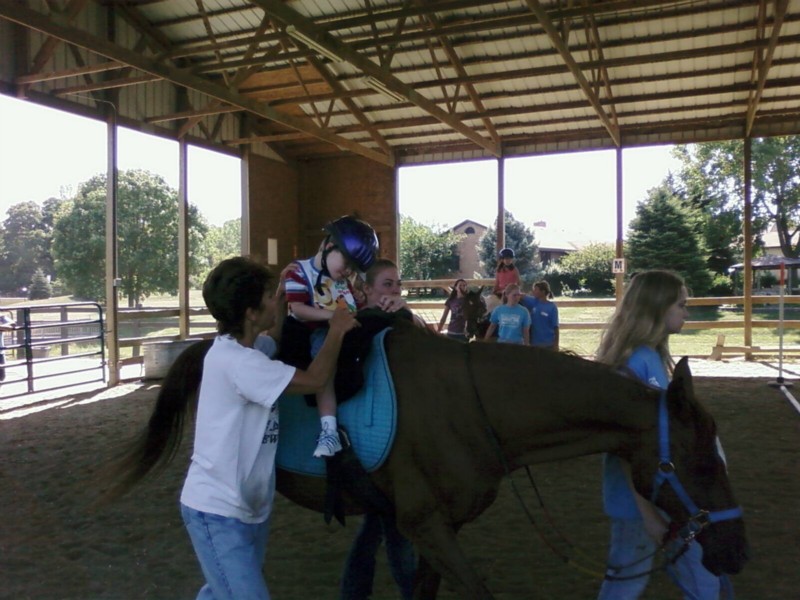 We were introduced to Ready Set Ride back in 2008 as a different form of therapy for our son Jimmy. Jimmy does not walk or crawl on his own and had very low muscle tone. When Jimmy first started riding he would sit slouched over on the horse (pictured above)and just 8 weeks later he was sitting upright on the horse. The results were amazing we were convinced then that as special needs parents, we would do whatever it took to ensure that Jimmy was able to continue this form of therapy.
We ride every Sunday morning April thru October and we never miss a day.
When the economy started to decline a few years ago the costs for hay and the care of the horses started to sky rocket. The owner started to struggle to come up with the money to keep the doors open and when she shared this with us the realization that we could lose this form of therapy for our son. We decided at that point we would do what we could to try and help raise awareness and funds for the barn.
Ready Set Ride is a non-profit organization who operates solely by the donations of family and supporters and as is run by volunteers. All monies raised goes toward helping cover the costs of operating the barn and the upkeep of the horses.
Please visit
www.readysetride.org
for more information regarding the facility or
www.all4jimmy.com
for more information about our son Jimmy.
Thank you from the bottom of our hearts for your donation