Service Dog Willow Shoulder Surgery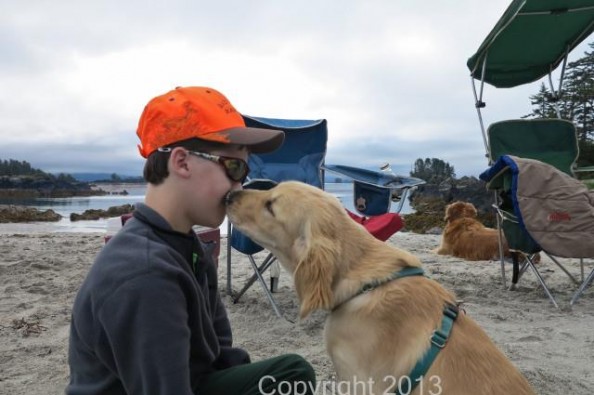 Just an update we are at 1925.00 so far so today has been awesome, thank you, thank you, thank you for everyone supporting us in this fundraising event for Willow!!!
Six Month Old Willow a golden retriever puppy was diagnosed today with OCD from a jump off stairs. She is in training as a Search and Rescue dog and a Service Dog for our son Trevor who has a severe neurological disorder and seizures. She is need of arthroscopic shoulder surgery in Anchorage and the cost is very high. We are raising money to pay for the surgery and travel for Willow from Sitka to Anchorage. The surgery will be scheduled in the next few weeks. The Veterinary Hospital does not take any payment plans and services are paid for up front. This surgery has a fantastic results in almost all dogs. Willow is already six months into her training as a service/sar dog and is doing fantastic at both. Please help us raise money to have this surgery done for this outstanding dog.Willow's mom is a Certified Search and Rescue dog in Sitka and her dad is a Therapy Dog in Juneau.
What is GoFundMe?

Fundraising made easy >>
CONTACT
LINK
POSTER
REPORT
lorraine linton
19 months ago
Robert/Alice Schell
19 months ago
We will pray for Willow
Harriet McClain
19 months ago
Joe & SueAnn Mudry
19 months ago
Although we don't personally know Trevor or Willow...we completely understand the bond and comfort we feel with our Golden Girl, Josie. Praying for a quick and easy surgery and she is back home with Trevor in no time! Joe & SueAnn @ Interiorworks
Claire Reilly
19 months ago
Karen- Emily told me about this amazing dog and the unique bond she has with Trevor. Please accept this donation with my love and best wishes.
Twenty dollars is only a drip when you need a downpour, but maybe it will help a bit. Love you guys so much!