Braden's Army. Bigger & Stronger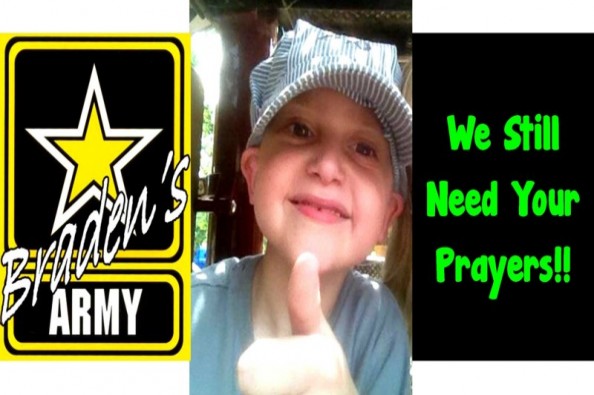 What can I say. We love the Hofen's. What a testament to the community that is Braden's Army. I wanted to personally thank each and everyone of you personally, but that would simply take too long. Each donation was made out of love for this family and every dollar was important. I hope that this fund continues to grow over time as we don't have to stop here. Keep it coming. Keep sharing this site. Thank you so much for creating some memorable detours for this family.

Phillip
Braden Hofen is a miracle thanks to experimental treatment regimens. He has been fighting Stage IV neuroblastoma for the past 5.5 years and experienced two remissions. On July 8th a new cancer was found. And now they need something special.

It's time army. It's time to give it all you've got. Some of us have been around for years - some have been around since the beginning of this journey - some we have added along the way. We are going to combine all our efforts to send this amazing family on a vacation that they would NEVER do for themselves. They have given SO MUCH over the years to us. Let's give back to them.

Let's see how fast we can raise this money. We have a big goal. And it needs to be met quickly. I have faith we can do this, and far exceed the lofty goal that has been set.

Donate and then share this on any and all social media you are connected to. Let's make an amazing memory for these angels.










What is GoFundMe?

Fundraising made easy >>
CONTACT
LINK
POSTER
REPORT
Thinking of you today little buddy. You don't know me but I am one of your MANY Olathe fans. Checking into your FB page is one of my daily routines. You are such an inspiration baby love, and so are your mom, dad and the Z-man. I can't wait to meet you some day. Till then, keep it rocking, you hear???☺ Gaby Lucas ♥
HUG LEVEL
Truman/Retta Reinoehl
20 months ago
You and your family continue to be in our prayers as well as our church family's prayers. We love you!
HUG LEVEL
Joan LeFosse
20 months ago
Lots of love and HUGS! Blessings too!
Amy Hilbrich Davis
20 months ago
You've stolen our hearts since day one of your journey. We feel so blessed to be a part of your phenomenal army of love and prayers. Blessings for the vacation of a lifetime! We love you, The Davis kids, Johnathon, Evelyn, Connor, Charlotte, Oliver, Louisa, and Anderson
Doug & Tonja Pfannenstiel
20 months ago
We love you and are praying. Never ever give up Hope!
HUG LEVEL
The Longwell Family
20 months ago
Hugs, love, HOPE, and detours....