PAM & HELEN GOT MARRIED-PAMS BUCKET LIST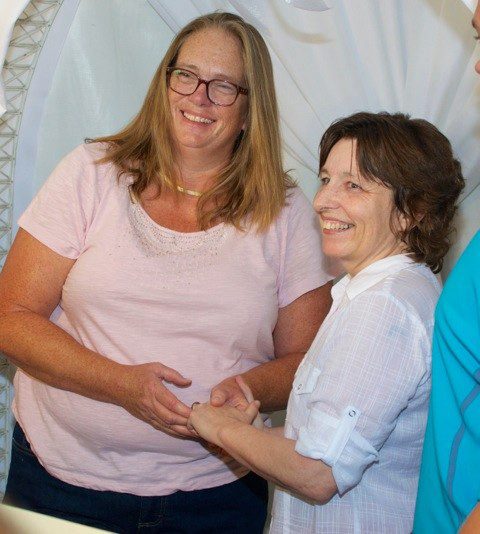 Good News

The Drs and staff found a cocktail that really helps Pam with her pain.Pam and I are home!!Pam was discharged late thursday and has done really well since we returned home.Pam is walking daily and has been able to enjoy daily LIFE activities again.
Pam and I have been sharing our lives since Oct 25,1994,on Monday July 1,2013 we were married in West Hollywood Ca.Pam has stage IV metastatic colorectal cancer that is inoperable.Pam is the kind of person that just by being near her you feel good.It is my wish and desire to make the remaining time we have filled with as many happy moments as possible for my darling Pam.We have spoken with Pam's oncologist and she has given the ok for us to have a honeymoon and will schedule Pam's chemo around what ever we are able to do.Pam really want's to go to Seattle one more time and also would love to go and stay at Disneyland for a few days.Below I have posted links to part of our story.
http://www.frontiersla.com/News/Context/Story.aspx?ID=1997227
http://articles.latimes.com/2013/jul/02/news/la-ln-west-hollywood-gay-wedding-20130702
Any monies not spent making Pam happy will be donated to USC NORRIS COMPREHENSIVE CANCER CENTER-GI DEPT SPECIFICALLY DR AFSANEH M BRAZI.
What is GoFundMe?

Fundraising made easy >>
CONTACT
LINK
POSTER
REPORT
Jenny and Hank Hales/Sims
20 months ago
Jennifer Boyer
20 months ago
Sadie Leeper
20 months ago
Jack Wilson
20 months ago
William Dameron
20 months ago
All my love and best wishes to you!
William Burns
20 months ago
Enjoy your time together!