A Change of Heart for Paisley Mae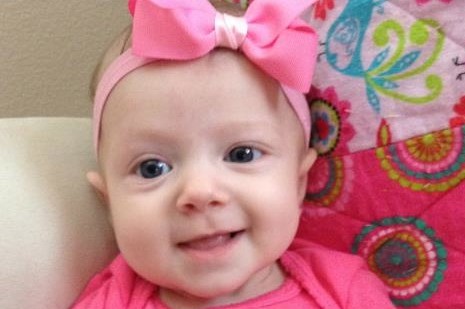 We have ANOTHER list of fundraisers for Mrs. Paisley's fund! How exciting!

March 11th "" 10am to 4pm - Blood Drive for Paisley Mae at Fire Station 311, 16200 Desert Knoll Drive, Victorville.

March 11th "" 4pm to closing at La Casita on Main Street in Hesperia. All proceeds go to Paisley!

March 13th "" 4pm to 7pm "" Shear-N-Dipity Hair and Nail Studio, 760.244.3000 - 16330 Walnut St. Hesperia "" The stylists have agreed to donate all proceeds collected, and client-donated bags will be sold for donations.

April 7th - 9am to 5pm "" Bella Mia, 760.947.2712 - 16727 Bear Valley Road, Suite 170, Hesperia "" All proceeds go to Paisley Mae!
On Valentine's Day, Mommy Charity and Daddy Rick took Paisley in for her 4 month check-up. She had been wheezing on and off since she was born, and every time they addressed the doctor about it before, she chalked it up to one thing or another, not really taking it seriously.
The Arnold Family checked into LLUMC on 2/15/13 and were told on 2/21/2013 that Paisley has an enlarged heart due to not having a left coronary artery. There is no operation to fix this and she will need a heart transplant. They have a very long road ahead of them and need all the prayers and support they can get! We are asking for you donations (of any amount..even $1 helps!) to offset any costs forced upon the Arnold Family at this distressful time.
What is GoFundMe?

Fundraising made easy >>
CONTACT
LINK
POSTER
REPORT
William E. Shaddock IV
13 months ago
Esther, My brother Dean is an old schoolmate of Marshall's, he is a stand-up guy so I stand up for you. All God's good will my dear, I know Candice is in good hands, be very well.
Amber Watson
23 months ago
This donation is from the Origami Owl fundraiser that I set up for Paisley. Thank you to everyone who helped out!!! Ambet
Fort Irwin Firefighters FIFFA
23 months ago
Jim Portell
23 months ago
Everyone's support is needed for after care.
Anita Vallo-Gesson
24 months ago
my husband started a fund at work, after seeing how much Paisley's plight affected me, so on behalf of Ironworkers, Local 433 at the solar plan outside of Hinkley, CA: "GET WELL PAISLEY MAE!!"
Culver City Firefighters
24 months ago
All our thoughts and prayers are with you and your family
Aaron & Rebekah Matteson
24 months ago
Prayers and Love to you and the family. Amazing miracles.
Dena Mourtos
24 months ago
We wish are favorite nugget health and healing! May your new heart beat stronger everyday! Love, Dena, Pickle and Penny