Hello friends and supporters!

In celebration of the 50th anniversary of the NY Worlds Fair first season closing, The New York State Pavilion Paint Project and NYC Parks present an Open Gate Event at the Pavilion on Sunday October 19th! The gates will open on a first come, first served basis at 12:30 PM and remain open until 5 PM.

The last two Open Gate Events were hugely successful and many did not have the opportunity to attend. Here's your chance to visit during the historical anniversary year of the fair. Come see our displays and bring your camera to capture the splendor of this iconic structure from inside the Tent of Tomorrow. Hard hats will be provided at the gate and you can meet the volunteer crew that has been helping to maintain the structure and raise awareness for the past five years.

Afterward, don't miss Beatles tribute band, Yesterday and Today, at the Unisphere at 6PM for a free concert! Watch for future announcements about other happenings in the park that day. See you there and thanks again for your support!
Special offer: For the next ten donations at the $50 level or higher, we will include a new 50th Anniversary Unisphere patch!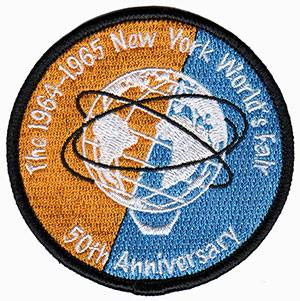 Thank you Bill Cotter at worldsfairphotos.com for the patch!
We began 2014 on a high note...WE SURPASSED GOAL! This page will remain open for donations which will help us with future maintenance and touch up. So please continue to spread the word! We held a Open Gate event on the 50th anniversary of the opening of the fair in April! Still a bit more work is needed. Look for new progress reports as we continue the project. Thank you!
Please check out
http://nyspproject.org
and the media coverage of the event. Please note- No funds from this gofundme was used for any purpose other than purchasing paint and directly related materials for the maintenance and improvement of the structure.
We are a grass roots effort lending support to preserving an iconic structure remaining from the 1964-65 New York Worlds Fair in Flushing Meadows Corona Park, Queens, New York. We (John P.; Mitch S.; Stephanie B.; Gary M.; Jim B.; Tom B.; et. al.) have spent the past few years gathering donations of materials and paint to restore some dignity to the structure in hoping it raises awareness towards the restoration and reuse. We have just about completed the outside paint and intend to start the interior in the spring of 2013. Designed by famed architect Phillip Johnson it has fallen into disrepair over the years. It has more recently been seen in movies like Men in Black and Ironman 2, as well as TV on CSI:NY.
The 50th anniversary of the opening of the fair has arrived and thepavilin lookedgreat. There is more to do! The money raised will go towards red, white and yellow paint and associated materials. We estimate 130 gallon of the red, white and 3 yellow. Typical cost per gallon is approximately $35 but we hope to seek discounts from generous paint distributors and other private donations. Thank you!
SEE YOUR REWARDS!
*
http://64nywf65.20m.com/Rewards/rewards.htm
The paint:
Sherwin Williams A-100 Satin Show Stopper Red- 5 Gal Pails Sherwin Williams A-100 Satin Extra White- 5 Gal Pails
Sherwin Williams Enamel Acrylic Latex High Gloss- Worlds Fair Yellow 1 Gal cans (formula available upon request)
For more information on this amazing building see these links:
http://www.nywf64.com/newyor01.shtml
http://www.conlab.org/acl/thereallybigmap/index.htm
http://www.nydailynews.com/new-york/queens/landmark-world-fair-pavilion-preservation-plan-paint-article-1.414172
http://www.qchron.com/editions/queenswide/graffiti-headache-at-state-pavilion/article_4f4a2864-2459-5bac-a640-a9b6e3f40cff.html
http://goo.gl/maps/y5wOj
If we have funds remaining after purchase of paint and material, the funds will be used to help secure the NYSP as to protect the efforts of its volunteers. Locks, clean-up, fence and gate repairs may be some of the items needed upon completion of the paint project.
Please allow 2-4 weeks for delivery of your gift.
Thank you!