Help UT Wendy's Guy Get off the streets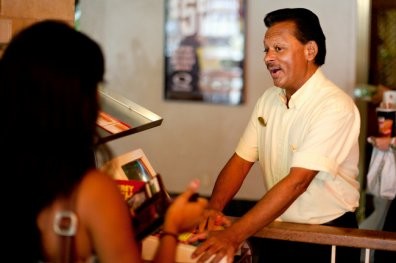 Thank you so very much to everyone who helped or offered to help!! I never would have imagined that this would get as big as it has gotten. I have been in contact with Junior and we are working as fast as we can to get these funds to him an a safe and secure manner. Thanks again for everythjng!
If you went to the University of Texas in the last 10-15 years and ate at the Wendy's in the Union EVEN once, you remember Junior. THIS MONEY WILL ABSOLUTELY GO TO JUNIOR AND WILL BE DONE SO IN A MANNER THAT WILL BETTER HIS LIFE!! The Daily Texan wrote about his departure a few years ago that he was returning to New York and heralded him as our "Beloved Wendy's Guy." Junior made me laugh as a student and was always smiling. Last night, February 7th, 2014, my fiancee and I ran into Junior on the street near Campus. His mother passed away and left him homeless. This breaks my heart and I want to help, but I cant do it alone. Lets raise some money to get Junior back on his feet!! All proceeds will go towards getting Junior a place to live and a job
What is GoFundMe?

Fundraising made easy >>
CONTACT
LINK
POSTER
REPORT
Tracy Blackmon
10 months ago
Thanks for brightening so many days for so many people. Many blessings to you. Hook em.
Josh Campbell
12 months ago
Yes! You never remember every concept learned in every class, but you'll never forget those friendly faces that were there to make even the most stressful days enjoyable. Great campaign.
Thanks Junior for making my lunch at UT smooth, quick, and memorable! You are awesome!
Sam Gutierres
12 months ago
I am not a UT alum or a Wendy's foodie, but this is an awesome task you have undertaken for someone. Good luck.