Farm Terrace Allotment Fighting Fund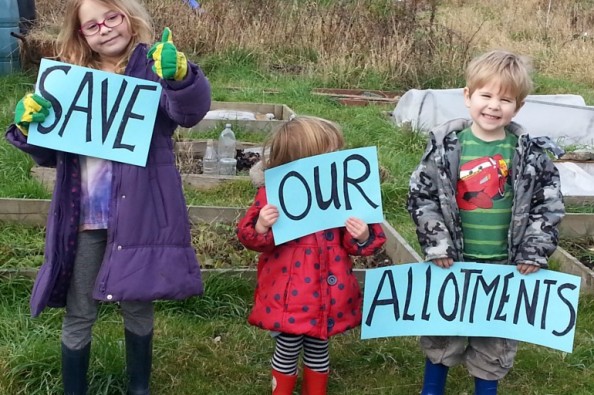 So the judgement day is finally here. We will get the decision at a proxy 10.30 am this morning. We are holding a press conference at the Allotments this morning at the same time. Please come and join us in this last stage if you can. No matter what happens today we want to thank you all so much for all your hard work and support. We could not have come this far without you all. Thank you.
Farm Terrace Allotment site Watford has existed since 1896. It stands in the centre of the hugely urbanized town of Watford. An oasis in an Urban Jungle. However we are in the middle of a bitter war with our council and central government who want to build housing on our site. This is becoming an epidemic, as more and more councils see selling off precious allotment sites as a way of generating cash. Since 2007 there have been 132 separate applications to close down allotments under section 8 of the 1925 Allotments Act. Out of these 132 applications 97% were approved (128 cases) and only 4 cases refused. Plot holders feel powerless to protest about these closures because the government have such power "" until now.

Our case showed that the Secretary of State had not applied his policy lawfully and in the face of legal action the Secretary of State backed down! However our Lib Dem council is not backing down and plans to put in another submission to develop on the allotments as the original case now has to be revisited. We in defence will be putting in our own submission with new data and facts. The Secretary of State will then make a new decision again in the Autumn. If we win, not only will we save Farm Terrace but we also will strike a blow for the protection of allotments all over the UK as it will make it much harder for them to be developed on!

Although we successfully challenged the first decision we may have to continue our fight in court dependant on what the decision is in the Autumn.

So far, we have received support from individuals, allotment holders, allotment associations nationwide as well as members of our local community.

Please donate as much as you can, we believe that if all our allotments are still needed now, more than ever. If all allotment holders keep quiet and do not stand up and be counted alongside us it is our very real fear that allotments will, in the very near future, be assigned to the history books.


Please help Save Farm Terrace. Please help save ALL allotments.
What is GoFundMe?

Fundraising made easy >>
CONTACT
LINK
POSTER
REPORT
Paul Rowbottom
19 days ago
This donation is on behalf of the members of Hay Green Allotments in leafy Bournville. Well done for taking up this important fight.
jerry gardener
1 month ago
every little helps, wish that this would have more allotments contibuting towards this.
Bushy Park Allotment
2 months ago
Power to you and good luck!!
Stella Merryweather
2 months ago
Keep up the good work!
Good luck with your efforts!
jerry gardener
3 months ago
'every little helps'
Chris Martin
3 months ago
Allotments are an important aspect of sustainable local living which must be protected. Good luck!
Great protest outside the High Court - I really hope you win, for FarmTerrace Allotments and because it's so important for other allotments