782
40
Proton Therapy for Zach Rizzuto
$126,635
of $125,555 goal
Raised by
902
people in 4 months
My husband Zach was an otherwise healthy 37-year old man until summer 2017. Zach was diagnosed with brain cancer in August 2017, just less than three months after the birth of our daughter, Roxanne. He has undergone three brain surgeries - one biopsy and two craniotomies - to diagnose and resect a huge brain tumor. The tumor has been diagnosed with brain cancer, anaplastic astrocytoma (
grade III
) to be exact.  This campaign was created to help us raise money for his proton beam radiaton therapy treatment since his health insurance carrier denied it because their medical directors,
Dr. Ellen Rabun
and
Dr. Joan Huppi
, claimed the treatment is unproven and not medically necessary. We disagree. More importantly, Zach's doctors in Philadelphia and Fort Myers disagree. So, we're reaching out to you for help. Thanks in advance for reading our story!
Three institutions reviewed Zach's MRI scans and pathology - Gulf Coast Medical Center, Duke University, and the
University of Pennsylvania
. The recommended treatment for his condition is tumor resection surgery followed by 6-weeks of radiation and chemo (Temodar), and then 12-months of chemo maintenance. Zach can receive either
photon
radiation or
proton
radiation, but we appealed
UnitedHealthcare
 to approve the proton radiation three times because it uses a lower dose of radiation which can reduce the long and short-term side effects, including protecting cognitive abilities and lowering risk for more cancers to develop. It is the preferred treatment due to the location of his tumor cells in his brain. Proton radiation has a reduced side effect profile, which means Zach could have less neurocognitive side effects and the left side of his brain's healthy tissue would be protected from the damaging effects of radiation. He will experience side effects with either form of radiation but would be able to have a better quality of life if he has proton radiation. This is critical for our family because he is still a young man, has a ten-month-old daughter, and is in the middle of his professional career.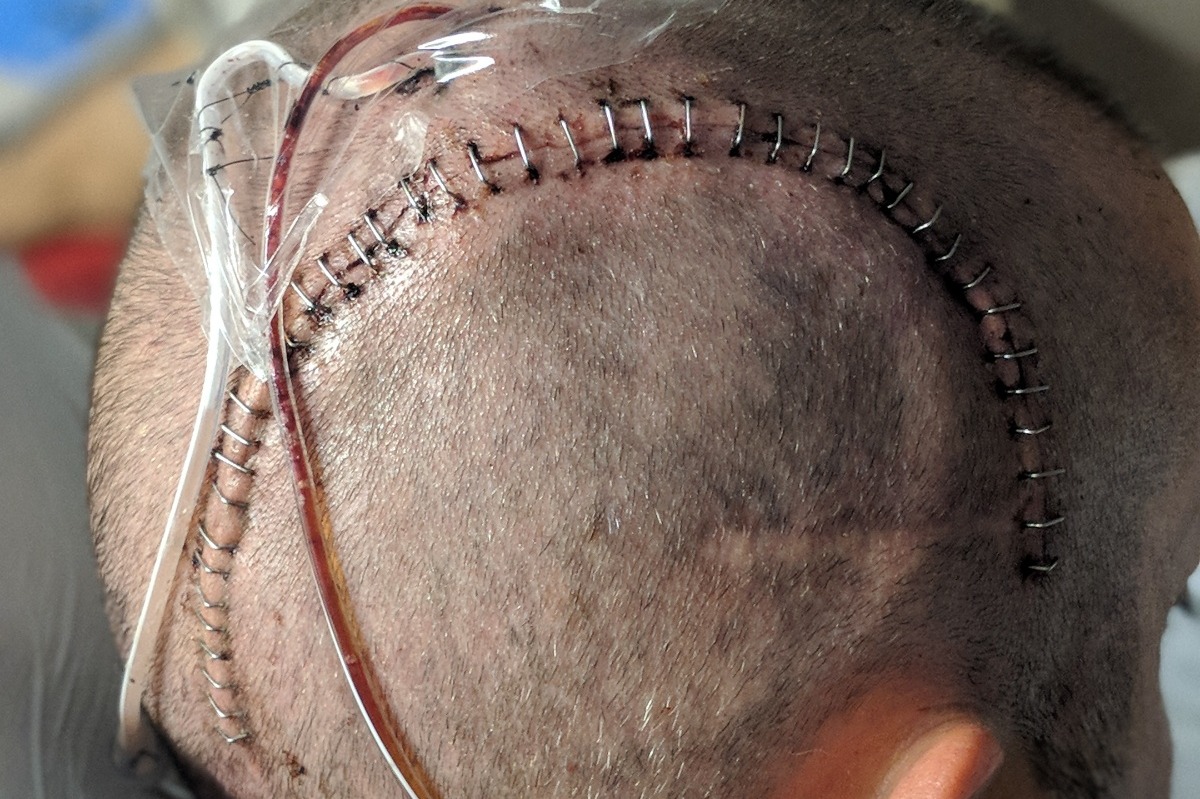 We are grateful and appreciate each of you for your kindness, support, and generosity. Thank you for sharing our story with others. I can promise you that we will pay it forward someday. We will also be sure to teach Roxanne about the love that exists in this world and remind her that there are so many good people in her life.
We take great pride in being fiscally responsible individuals. We wish we could pay for Zach's treatment in full with our savings, but we don't have enough saved, and it would take us too long to get the amount needed without drastically delaying his treatment (and risking tumor regrowth). We also have medical bills from his previous surgeries to pay. His proton treatments will cost $125,554.11.
Fifty-percent of his treatment ($62,777.05) must be paid before he can begin.
The remaining fifty-percent must be paid in 5 payments of $12,555.41 over five months after treatment. There are no other payment plan options available for proton therapy at Penn. Zach will also receive very little of his income (if any) during his six weeks of treatment because we have to be in Philadelphia. We hope he can return to work fully soon after, and that is one of the main reasons we have been fighting for proton radiation over traditional radiotherapy. There will be neurocognitive side effects for either type of treatment, but they are lessened with proton therapy. Since Zach's radiation will be on his brain, it is critical to preserve as much healthy brain tissue as possible in order to maintain his quality of life and cognitive functions after treatment.
Longer Story
How did you find it?
Zach experienced several confusion/disorientation/staring episodes in 2017, just before and after Roxanne was born. He initially convinced me they were caused by the stress he was under at work. I finally got him to go to a doctor in early August, and an MRI was ordered. We were called back into the office on the same day the MRI was performed. I knew the news could not be good. Thankfully, my mom had been staying with us for a few weeks to help me with Roxanne as I started to transition back to work. We were told Zach had a 7 cm mass (described as huge in the report) on the right temporal lobe of his brain. We now know the episodes he was experiencing were absent seizures. He never even had a headache, which is amazing. We immediately met with oncologists and a neurosurgeon in Florida to find out what to do. A biopsy surgery was performed on August 23rd (when Roxanne was just about 3-months old). His biopsy results were inconclusive because the hospital in FL did not have a neuropathologist on staff, but lymphoma was ruled out. The slides were sent to the Mayo Clinic for an expert consult and his MRI scans were sent to the Duke University Brain Tumor Center.  The initial pathology from the Mayo Clinic indicated the tumor was a low-grade glioma (grade II). The news wasn't the best or worst we could receive. We waited several weeks for Duke to get back to us and eventually the neurosurgeon called and talked to Zach about removing the tumor. We were not immediately comfortable with the discussion, so I decided on a whim to reach out to the brain tumor program at the University of Pennsylvania since we were going to NJ for my nephew's first birthday anyway. My experience working with a nurse navigator at Penn was impressive. We were able to get three appointments scheduled with experts in less than ten days. The appointments were long but eye-opening, hopeful, and thorough. The surgeon showed us the intricacies of Zach's tumor on his MRI scans, and the Medical Oncologist drew out an entire plan with us while we were sitting there. He also taught us about the molecular variations in brain tumors and described why those were important to understand. It was the first time since Zach's initial MRI that we felt some positivity again. It was also the first time we left an appointment and could smile. We immediately felt that Penn was the best place for Zach's surgery and adjuvant treatments.
Why three brain surgeries?
The first resection surgery was a success (90-95% of tumor removed), but the initial thought was his tumor was grade II at the time. Everything at that point was textbook grade II. It wasn't until the post-op pathology of the larger sample that doctors discovered it was more of an intermediate grade II/grade III, which can be more aggressive. So, the surgeon recommended going back in to get more of the remaining tumor out, which would cause Zach to essentially lose the peripheral vision in his left eye. Zach wishes he could have raised his hand during the first surgery and told the surgeon to remove more the first time, but obviously that wasn't an option. The second resection surgery was also a success and 95-99% of the tumor was removed. There is still a small amount of tumor in his brain because it was dangerously located near a critical blood vessel and was inoperable.
What about work?
Zach's company was acquired early in 2017 and he was told he would be laid off by the new company later that summer. He was offered a new position at another company (during Hurricane Irma) and accepted. However, FMLA cannot be used unless you have worked for an organization for at least 12-months. He has had some short-term benefit payments, but those have been exhausted. My employer has been amazing to work with, and I have been able to keep up with my job, thankfully. I have a wonderful manager and team and they have been so supportive and caring. I am very lucky! I cannot use FMLA either because I used most of my available time for maternity leave. Lesson learned - try your best not have multiple family medical issues in the same 12-month time frame! Zach cannot drive because of the seizures, so I must drive him everywhere, including to work and doctors' appointments. I often have to miss meetings and events at work to do so.  Many of you know how much Zach loves driving and cars - they were his passion. This has been extremely difficult for him.
My dad has also been living with us in FL since he started a new job in Fort Myers in September. My mom, aunt, and brother have been a great support system and babysitters for Roxanne during our time in NJ/PA. We have Roxanne in a wonderful child care facility while I am working. It is expensive, but it has allowed her to have some routine and consistency in her life, for which we are grateful. The caregivers have become a second family for her.
Detailed Diagnosis (Pathology) - Anaplastic Astrocytoma, Grade III Glioma
Zach was initially diagnosed with a low-grade glioma (WHO grade II). After his first tumor resection surgery, pathology indicated there were pockets of anaplasia, which means some cells were actively dividing and the tumor was more of an intermediate grade II/III. This means we need to be very aggressive in his treatment plan because tumors can recur and grow into higher grades. Zach does have several molecular markers that make his tumor more treatable than others. We're told his tumor has 2 out of the 3 that respond well to chemo and radiation treatment, but we cannot delay.
Recommended Treatment
Tumor resection surgery
Temodar (chemotherapy pill) - during radiation and 12-months following radiation
Proton Radiation - 6-weeks at Penn Medicine in Philadelphia
Cost: $125554.11 ($62777.05 due prior to treatment; five-month installments of $12555.41)
Timeline
Spring/Summer 2017 - absent seizures observed by Mel
August 9, 2017 - Meet with GP to Discuss Episodes (first doctor appointment with a GP ever while I was married to Zach)
August 14, 2017 - MRI in the morning, Called into office in the afternoon. My mom was with us for a few weeks to help me transition back to work after Roxy was born. She was scheduled to fly home on August 15th. That did not happen.
August 23, 2017 - Biopsy Surgery in Florida
September 2017 - Hurricane Irma hits SWFL, we are left without power for a week
October 2017- Meetings with Penn Neurosurgery, Radiation, and Medical Oncology
November 2017 - Schedule first surgery for December 1st
December 2017/January 2018 - Receive new pathology results and schedule second surgery for January 31st
February 2018 - Begin appeals process with United Healthcare; Receive three denials for Proton therapy, which is proven to reduce the dosage of radiation and prevent some neurocognitive side effects in brain cancer patients
March 2018 -  Met with Radiation Oncologist in Fort Myers and he confirmed that proton is what he would recmomend also; begin to raise money to receive proton radiation therapy; 50% needed before treatment begins, 50% paid over five-month installments
May 24, 2018  - Roxanne will be one year old.
Related Images/Documents 
Pathology & UHC Appeal Denials
Mel's Appeal Letter to UHC
+ Read More